Hong Kong Stocks Catch Up With Global Rout as Trump Softens Blow
(Bloomberg) -- Hong Kong stocks fell as the city reacted to the latest wave of declines across the globe.
The Hang Seng Index closed 1.5% lower on Tuesday, as did a gauge tracking Chinese companies trading in Hong Kong. The city's equity market, which was shut Monday for a holiday, had been relatively resilient to this month's rapid correction onshore and worsening trade relations between the U.S. and China. The Hong Kong benchmark is now down 5.3% for May. China's CSI 300 Index, which dropped 0.6% Tuesday, has lost 6.9% this month.
Beijing retaliated late Monday with higher tariffs on a range of American goods, spurring a 2.4% loss in the S&P 500 Index. As a global financial center with no limits on capital flows, Hong Kong is vulnerable to worsening ties between the two nations and usually does badly during a wave of risk-off sentiment. A weak yuan also weighs on earnings for Chinese heavyweights listed in the city.
Softening the impact on Tuesday were comments from U.S. President Donald Trump that he thinks talks with China will be "very successful." While that helped spur a brief rally in the yuan, the offshore rate erased gains just as Hong Kong's equity market closed, weakening past the 6.9 per dollar level again.
"Investors are not yet in panic mode, since there's still room for an agreement on trade," said Steven Leung, a Hong Kong-based executive director at Uob Kay Hian (Hong Kong) Ltd. "The uncertainty is enough to keep investors nervous. Hong Kong is catching up."
Below are five charts showing the strain that's building in Hong Kong shares.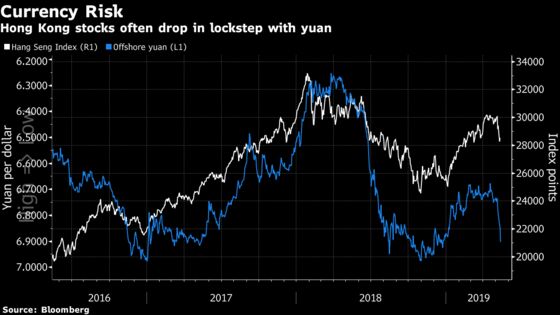 A slump in China's currency tends to weigh on Hong Kong's equities. Morgan Stanley last year estimated that members of the Hang Seng Index generate about 60% of their earnings in yuan. The offshore rate weakened for seven straight days through Tuesday, taking its decline in May to about 2.6% against the dollar.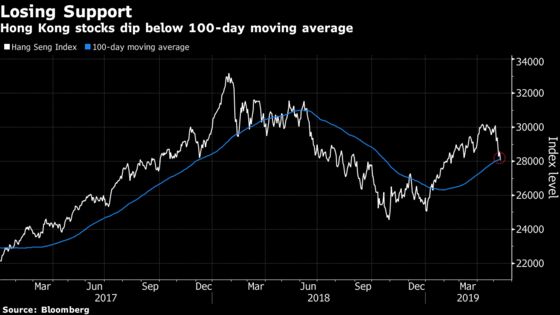 The Hong Kong benchmark fell below its 100-day moving average on Tuesday, which served as a support for the gauge in the past two years. Failure to stay above the key level over the next few days could fuel more sell-offs, according to Uob Kay Hian's Leung.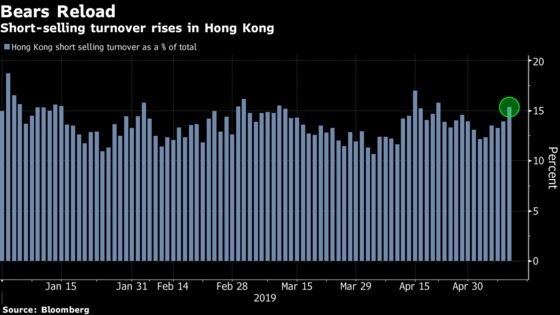 Short selling turnover in Hong Kong's main board has been increasing since early May. It accounted for about 15% of total turnover in the city on Friday, the highest in more than two weeks.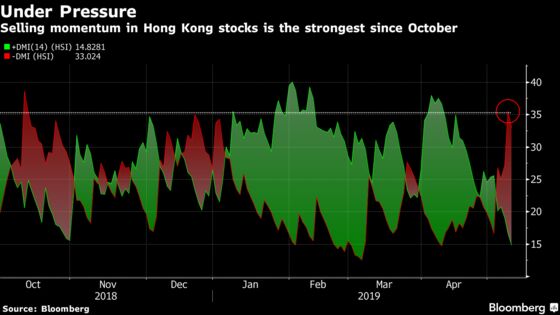 The Hang Seng gauge is showing its strongest downward momentum since a sell-off in October, according to a technical indicator known as the directional movement index. The measure -- a tool to assess price direction and strength -- also shows a widening gap between the Hang Seng index's bullish momentum (in green) and bearish momentum (in red).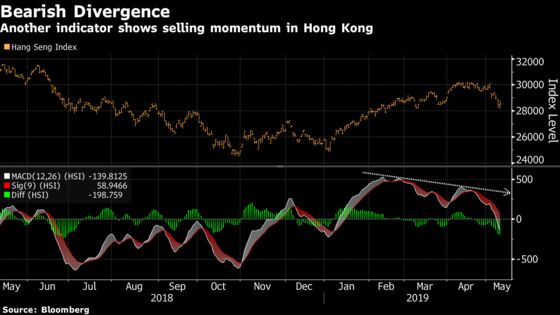 Another momentum indicator also points to further declines in Hong Kong. The moving average convergence divergence line -- which in April triggered a bearish signal -- fell even further last week to turn negative. It has also started to decouple from the Hang Seng Index, a pattern known as a "bearish divergence."