The Great Reflation Trade Is Buckling Around the World
(Bloomberg) -- The reflation trade that hammered bonds, drove stock gauges to repeated records and re-energized long dormant value shares this year is in rapid retreat.
Driving the drama is the bond market. Benchmark 10-year Treasury yields broke below 1.3% Wednesday as real rates -- which strip out the effect of inflation -- sank below minus 1%, signaling that traders are souring on the growth outlook. That reignited a bid for the technology-heavy Nasdaq 100 Index, which touched a fresh record as the cyclically-oriented Dow Jones Industrial Average has lagged.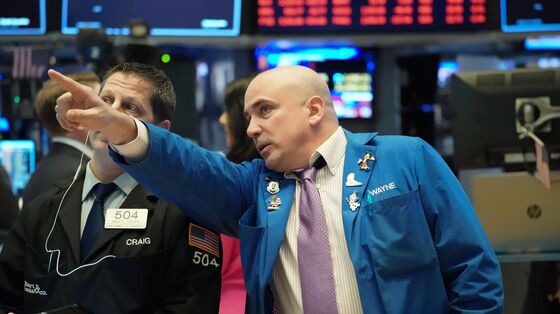 Taken together, the cross-asset picture suggests that investors increasingly see the best days of the so-called reflation trade in the rearview mirror. After surging economic growth resurrected value shares in the first half of the year, "peak growth" warnings have surfaced while inflation expectations -- which once rattled tech shares -- have cooled. Combined with hawkish noises from the Federal Reserve and new virus variants spreading across the globe, the shift is sending traders back into tried-and-true growth names.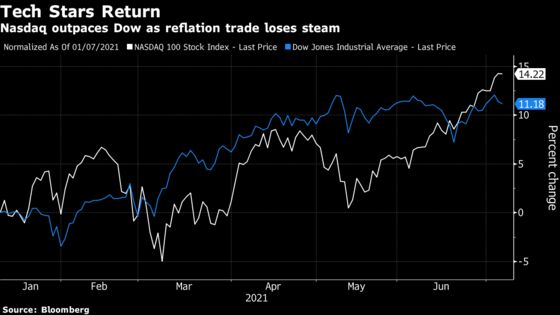 "From April to May and into June, you saw a lot of peaking economic data and that is reverberating across assets," said Matt Miskin, co-chief investment strategist at John Hancock Investment Management. "These things are still growing, but the rate of change is decelerating and the markets are pricing that in."
Most recently, data on Tuesday showed that U.S. service providers expanded in June by less than forecast, while still indicating demand for services like restaurants, hotels and travel. And Citigroup Inc.'s economic surprise gauge -- which measures the magnitude to which reports either beat or miss forecasts -- has dipped to its lowest level since February.
Elsewhere, there are concerns China's economic rebound may have peaked. That's reflected in the more than 7% drop in emerging-market stocks -- touted as one of reflation's beneficiaries -- from a record in February. Japan's Topix equity index, perceived by some as a cyclical play, is down about 4% from a high in March, a period over which global stocks rose almost 8%.
While the U.S. economy's reopening unleashed pent-up demand, the "tailwind of that boost from the reopening is fading," said Fiona Cincotta, senior financial market analyst at City Index, adding that investors are now focused on "what the Fed might do next." The latest Fed minutes showed policy makers awaiting more evidence of a robust economic recovery to set a timeline for trimming bond purchases.
Fading demand has battered small caps, once the favored reopening play as U.S. vaccination rates climbed. The Russell 2000 Index has lagged the S&P 500 recently and short interest on the $68 billion iShares Russell 2000 ETF (IWM) just hit its highest level this year.
In the world of exchange-traded funds, value products have already lost $454 million this month, a rapid reversal from their $2.8 billion inflows in June. Meanwhile, BlackRock's iShares 20+ Year Treasury Bond ETF (TLT) just recorded its biggest inflow in two months, while short interest on the fund is plunging.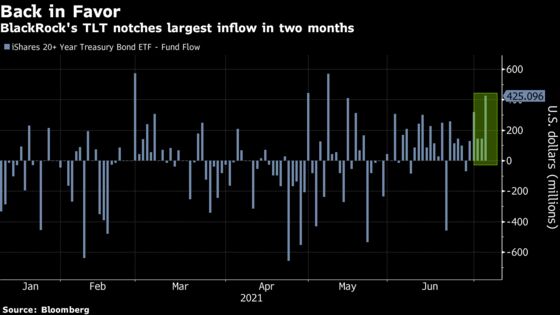 Even real estate funds -- which have been boosted by demand for both commercial and residential properties amid reopenings -- are starting to struggle. BlackRock's iShares U.S Real Estate ETF (IYR) has faced four consecutive days of outflows totaling $1.5 billion.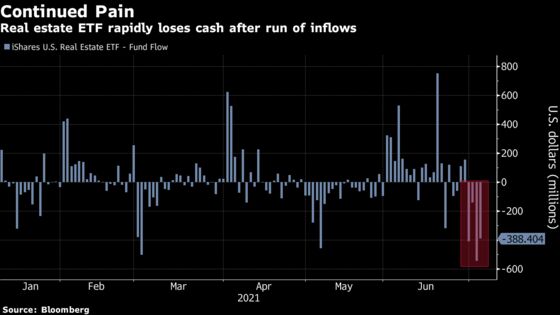 "You're starting to see fiscal policy benefits fading and the economic data and the earnings data are likely to be the high point after the pandemic," said Michael Arone, chief investment strategist for the U.S. SPDR ETF business at State Street Global Advisors.
Hedge funds are positioning for growth strategies to continue to outperform value, according to prime broker data compiled by Goldman Sachs Group Inc. Managers were still net buyers of the value factor on a year-to-date basis as of July 1, but the pace of buying has slowed dramatically since the end of the first quarter and even switched to selling in early June.
"Some of the old leaders are becoming the new leaders again after a disappointing first quarter for the growth names," said Mark Heppenstall, chief investment officer at Penn Mutual Asset Management. "It makes more sense you'll see more emphasis on growth names in a world where people think we've hit peak growth and maybe we're in a Goldilocks inflation environment."