The Five Things That Keep Asia Equity Investors Up At Night
(Bloomberg) -- From an escalating trade spat to increasing geopolitical uncertainty, the list of worries just grows for Asia's stock investors.
Take Hugh Young, head of Asia at $779 billion money manager Aberdeen Standard Investments, who says the markets may be shifting after a period characterized by buoyant returns and low volatility.
"I wouldn't say there's anything major we're focusing on to look to go wrong, but will there be something?" Young said. "I'm sure there will be."
As the calendar rolls into June, here's a look at a few of the things that could go wrong for investors:
There's plenty of political uncertainty around the globe to choose from:
The U.S.-North Korea peace summit that is either happening on June 12... or not, depending on who or when you ask
Political upheavals in Spain and Italy, which has roiled markets, while the U.K. continues its slow-motion Brexit
Key elections this year in Brazil, Mexico and elsewhere as countries struggle with the rise of populist candidates
Unrest in the Middle East from Iran to Israel
"When you start to factor in Korea, Iran, Israel, you name it, into the overall equation it does suggest we're in for a little bit of a bumpy road in the second half of the year," said Stephen Innes, head of Asia Pacific trading at Oanda Corp.
Geopolitical uncertainty has contributed to a malaise hanging over global markets for much of this year, after a global equity rout killed an early rally.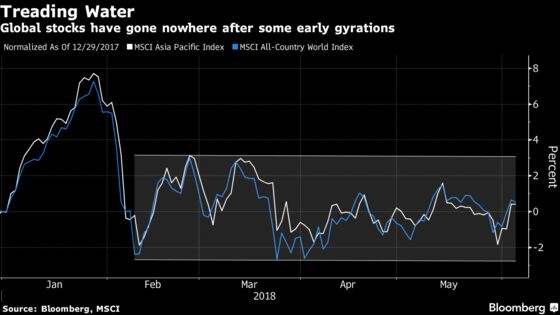 "Geopolitical risks would be the concern, but frankly what can you do about it?" Young said. "Will it dramatically affect the earnings outlook for companies we are investing in, well in certain circumstances, yes."
The escalating trade war between China and the U.S. -- part of a wider strategy by U.S. President Donald Trump to enforce new terms with other countries -- looms over all other political issues.
As many Asian companies are export driven, trade issues between different countries "is one main thing that is really affecting the earnings trajectory", said Felix Lam, fund manager with BNP Paribas Asset Management, in a phone interview. "They do stand to lose if there are any hiccups."
A compromise between trade partners is Lam's base case but that doesn't mean there can't be bumps along the road that can derail growth expectations for companies.
"I'm not sure whether the whole market is ready for such an earnings dip," he said.
Wendy Liu, the head of China equity research at Nomura Holdings Inc., expects the U.S. to continue to engage China in "reality TV-style" negotiations ahead of the mid-term elections. She predicts a resolution by September that may include increased imports of natural gas and crude oil into China.
Don't forget the central bank stateside.
While most expect two or three more rate hikes this year, some think the transition from an easy monetary policy environment to one with stronger growth and higher bond yields will be a difficult one.
"There will be winners and losers," said Nader Naeimi, a fund manager at AMP Capital Investors Ltd. "Even smaller changes are enough to cause disruptions in pockets of markets," he said, emphasizing that the high levels of debt in the market have not been priced in with a strong belief in "lower for longer."
Investors should position for higher interest rates, perhaps even a little higher than what's expected, he said. "They have to start doing it. We know the economy is going to take a downturn in a couple of years."
End of the Earnings Honeymoon
In contrast to last year, investors have been wrestling with an uncertain outlook for corporate earnings amid higher valuations.
Results have been mixed. Tencent Holdings Ltd. has managed to soothe fears with a record profit in May, others like Japan's Mitsubishi UFJ Financial Group Inc. and Sony Corp. have lowered expectations for the future. The average sales surprise for companies on the MSCI Asia Pacific Index was 3.7 percent in the first quarter -- the lowest since 2016 -- which is about half of the previous quarter.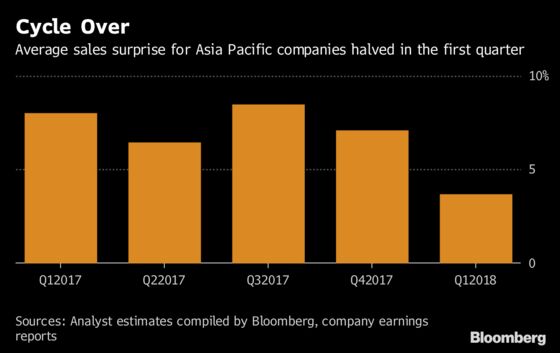 "That earnings upgrade cycle is over," said Andrew Gillan, the Singapore-based head of equities for Asia excluding Japan at Janus Henderson Investors. "People have upgraded their earnings and now we're waiting for reasons to upgrade further. It is natural that you've got a lull in markets in that environment."
He still expects more than 10 percent earnings growth in Asia this year.
And finally -- as every manager emphasized -- volatility, although worrisome for passive investors, means they're back in the game. The Cboe Volatility Index, which is the most prominent tracker of volatility, posted a record one-day surge in February as stocks tumbled. It is now back to January levels, below its one-year average.
"There are always going to be risks around but it doesn't mean that we can't stay invested in good companies that we like," said Joanna Kwok, whose Asia growth fund at JPMorgan Asset Management has returned over 20 percent in the last 12 months, beating 91 percent of its peers.
She has taken some profits off technology holdings after the rally, and has found opportunities within the financial and consumer sectors. The active manager echoed her peers in stressing the importance of choosing "quality companies" and tuning out the noise.
"We stay the course," she said.