The Brokerages Already Lining Up Bets on Peace With North Korea
(Bloomberg) -- Samsung Securities Co. has been busy.
Just a day after U.S. President Donald Trump concluded his historic summit with Kim Jong Un, the brokerage arm of South Korea's largest conglomerate published a 203-page report on how stock investors can play the situation with North Korea.
The securities company, which created a team last week to recommend listed companies likely to benefit from rapprochement with North Korea, says investors should consider everything from fertilizer companies, which will help the North make its land more arable, to firms in a joint North-South industrial complex that's been shut since 2016. While other commentators criticized the Trump-Kim agreement as lacking substance, Samsung heralds its positives.
"North Korea is taking steps that it won't be able to reverse," analysts led by You Seung-min, who heads the brokerage's North Korea team, wrote in a report titled "Heading toward an era of Complete, Visible, Irreversible Prosperity." "In the past, North Korea's means of survival was nuclear, but in the future it'll be the economy."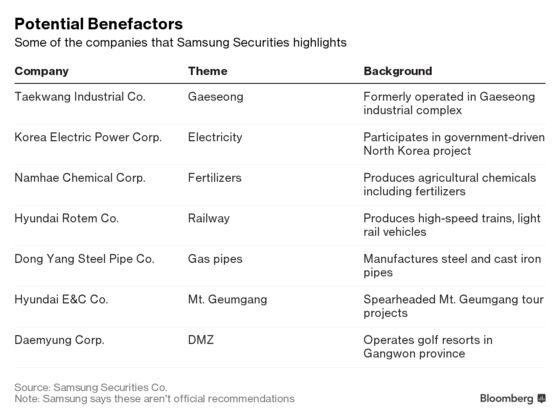 Samsung Securities listed seven groups of companies that could eventually benefit. They are: manufacturers in the currently closed Gaeseong industrial complex, electricity producers, fertilizer makers, railway stocks, gas companies, tour operators for North Korea's Mt. Geumgang, a scenic mountain that has been opened to tourists from the South in the past, and companies related to the development of the Korean demilitarized zone.
"It will take time for actual business to start," You said in a phone interview from Seoul. "But neighboring countries will help the North Korean people to meet their basic needs."
Lee Kyoung-min, a Seoul-based strategist with Daishin Securities Co., shared some of Samsung's ideas. Companies that will provide humanitarian assistance to North Korea may lead the early stage of economic cooperation between the two Koreas because they won't be subject to sanctions, Lee wrote in a note Thursday. He cited pharmaceutical, fertilizer and farm-machinery companies as examples.
To Robert Mann, a senior portfolio manager at Nikko Asset Management Co. in Singapore, the moves toward friendlier relations certainly make South Korean stocks and other assets more attractive.
"It is reasonable to assume that North Korea will open up economically, to a greater or lesser degree, and that the Korean discount on assets will decrease over time," Mann said. "There is already talk of foreign investors looking at Seoul real estate. Some investors or companies who were deterred by the bellicose statements from both sides will now feel more comfortable with investments in Korea."
But Bryan Goh, the chief investment officer for Bordier & Cie (Singapore) Ltd., is one of many money managers who are much more cautious than Samsung Securities' North Korea team when it comes to recent developments. South Korea's benchmark stock index fell 1.8 percent on Thursday, the first trading day after the summit.
"There are no concrete details," Goh said of the Trump-Kim agreement. "The text of the document was general and vague and contained four bullet points of intent, not commitment."