The Bastion of Oil-Market Bullishness Is Starting to Crack
(Bloomberg) -- For much of May, nearly each and every time that oil prices tanked amid concerns about the deepening U.S.-China trade war, one corner of the market held up: timespreads.
The spreads -- the price difference between contracts for immediate delivery and forward ones -- reflected tightness in the physical market, with refineries willing to pay large premiums to secure barrels straight away. As such, the oil curve was in a steep backwardation, where spot crude trades above later contracts.
For most of May, oil refiners bid up the front of the oil curve to keep North Sea crude in north-west Europe in order to replace Urals crude from Russia that was lost due to an unprecedented contamination inside the Druzhba pipeline. Now, as Urals flows slowly restart to some parts of Europe and a plan takes shape for a wider resumption, the tightness in the physical market is starting to ease -- and timespreads are following suit. Refinery cuts in Germany are also helping to reduce demand.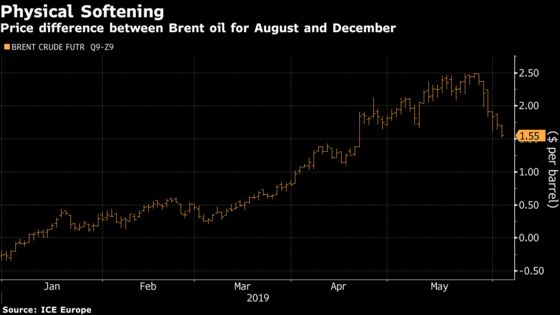 At the peak of the Russian crisis, the first-to-second month backwardation strengthened to a peak of $2.58 a barrel on the last day of May. Since then, it has eased significantly, dropping to just 76 cents. The slump in part reflects the expiry of the Brent contract for July. But even measuring August against December, the slope flattened. On May 27, August-to-December traded at a peak of $2.49 a barrel; it's trading at $1.52 a barrel on Tuesday.
The crisis of Russian oil supplies in Europe isn't yet over, but it's starting to be resolved. Add to that the fact refiners had time to look for alternatives, and timespreads are quickly falling -- in tandem with every macro-related sell-off in headline Brent and West Texas Intermediate prices.
There are still pockets of strength. Backwardation, even if lower than at the end of May, remains relatively strong by historical standards. And some physical barrels remain expensive.
"We have only seen a minor weakening in physical crude differentials, which remain strong," oil consultant JBC Energy GmbH told clients in a note.