Bar Is High for Fed to Help Investors, Morgan Stanley Says
(Bloomberg) -- The Federal Reserve isn't likely to come to the rescue of stock investors this time around, given the likelihood of persistent inflationary pressures, Morgan Stanley's cross-asset strategy team warned.
"The Fed and other developed market central banks are in a fundamentally different place than 2010-17," Morgan Stanley strategists led by Andrew Sheets in London wrote in a note on Sunday. With core inflation picking up, "this makes it materially more difficult to sound dovish while remaining consistent with a mandate" to contain price gains, they wrote.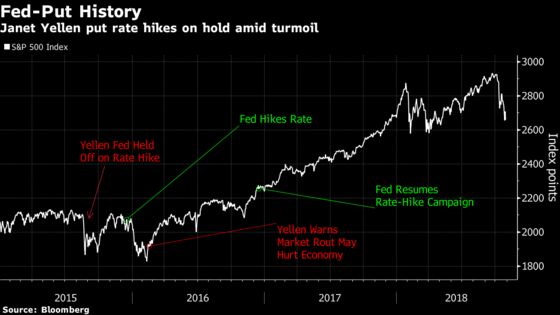 That's one reason Morgan Stanley isn't yet suggesting investors buy U.S. equities despite the S&P 500 Index's near-9 percent slide this month sending valuations to the cheapest since February 2016. The bank's equity-strategy team remains concerned about a "final washout" in stocks, and Sheets and his colleagues see continuing challenges into 2019.
Here's some thoughts from Sheets's team on investment strategy given Morgan Stanley's expectation for faster inflation alongside decelerating growth:
Gold and oil prices tend to do best in this scenario. Energy stocks typically outperform the broader market, and emerging-market equities do better than U.S. ones.
Natural gas, along with gold, moves from one of the worst environments to one of the best for returns.
U.S. stocks, credit and the dollar index "do materially worse" in a faster inflation, slower growth combination compared with when both are accelerating.
European and Japanese stocks currently have the "most attractive" risk-reward balance.
In the bond market, traders have already started to pare back bets on Fed tightening over the next year or so. But given how faster inflation is likely to keep the U.S. central bank raising rates, short-dated Treasuries will be "more challenged than they'd otherwise be," the Morgan Stanley strategists wrote. Dollar-based investors could consider short-dated interest-rate bets, with currency hedges, in countries with less inflationary pressure, such as Japan and South Korea, they said.