The 2020 Stock Rally Is a Love Story, Not a 'Dash for Trash'
(Bloomberg) -- The U.S. equity rally to kick off the new year is more a story of investors' enhanced adoration for already cherished companies than it is a tale of revenge wrought by the stocks most-deeply scorned.
The 100 companies in the Russell 1000 Index with the lowest share of short interest as a percentage of float have outperformed so far in 2020, according to an analysis by Bespoke Investment Group. Meantime, two Goldman Sachs Group Inc. baskets of stocks with an elevated degree of bearish bets have lagged the S&P 500 Index.
Traditional pillars of the bull market are standing taller than ever. Tech shares have led gains in U.S. stocks this year as investors pile into companies that benefit from an economic pickup. Giants like Apple Inc. and Microsoft Corp. have beaten the benchmark gauge of American equities in 2020. Long-short hedge funds have taken a "markedly bullish" stance on the industry, Masanari Takada, a quantitative strategist at Nomura Holdings Inc. wrote.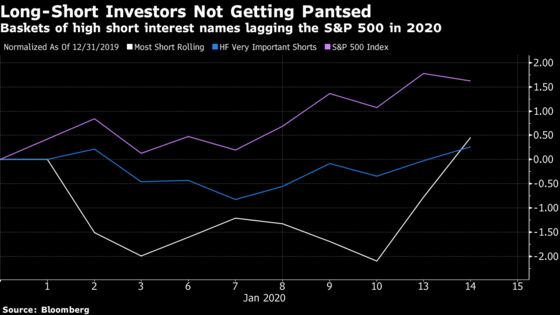 Meantime, some of the heavily-shorted stocks in the Russell 1000 Index like ADT Inc., Ollie's Bargain Outlet Holdings Inc., 2U Inc., Hanesbrands Inc., U.S. Steel Corp., and Range Resources Corp. are down by at least 5% to as much as 20% so far this year.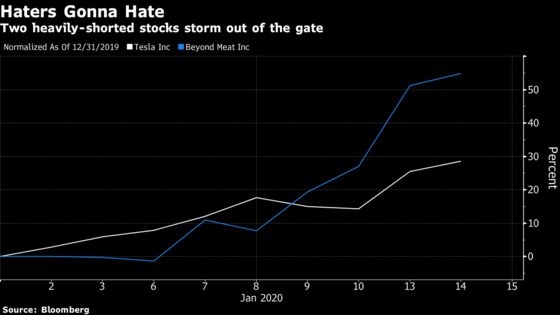 Two notable exceptions are Tesla Inc. and Beyond Meat Inc., which have rallied at least 27% year-to-date. Both companies are among the 35 stocks in the Russell 1000 with the highest share of short interest, according to Bespoke.
"The market's rally so far to start 2020 hasn't quite been the 'dash for trash' that the rallies in these stocks would suggest," the Bespoke analysts wrote in a note to clients. "We have seen the most heavily-shorted stocks perform better than the middle deciles, but they haven't done better than the least-shorted deciles."