That Quick Post-Volmageddon VIX Drop May Not Occur This Time
(Bloomberg) -- The Cboe Volatility Index closed at nearly 40 on Thursday, and some market watchers are saying high levels might stick around a bit longer than in past VIX spikes.
When Wall Street's "fear gauge" spiked in the volatility-induced meltdown of early 2018, it closed at 37.32 on Feb. 5 but was back down to 15.80 by Feb. 26. By March 9, it closed below 15. But at that time, a number of volatility-linked products exacerbated the swings -- and once they were out of the picture, markets were able to calm down relatively quickly.
"The VIX reached 39, its highest level since the February 2018 'VIX-plosion," said Wells Fargo & Co. strategist Pravit Chintawongvanich. "Unlike February 2018, however, there is no blowup of leveraged VIX products that is driving the jump in implied vol -- and hence no reason to think vol will mean-revert rapidly."
The VIX rose again Friday, reaching 41 as of 7 a.m. in New York.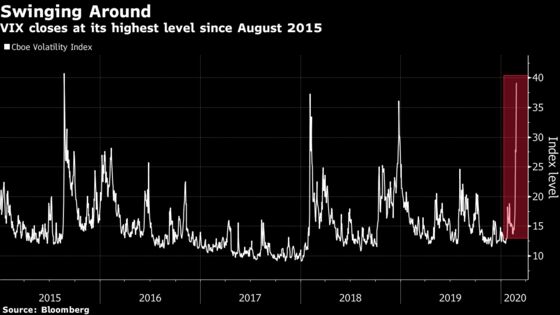 Of course, like in 2018, stocks enjoyed a strong run-up in late 2019 and the start of this year, with the S&P 500 Index gaining 17% from Oct. 2 through its record close Feb. 19. Its valuation hit the highest level since 2002. Along with the gains, came everything from a surge in speculative activity in options to warnings about extreme positioning by investors.
A "combination of valuation and relative complacency we think accounts for why the VIX has moved so aggressively this time around, even if the Fed risk is not the factor it was in 2018," Michael Purves, the chief executive officer of Tallbacken Capital Advisors, wrote in a note Thursday, comparing the current sell-off to September 2018, when the Federal Reserve was more hawkishly positioned.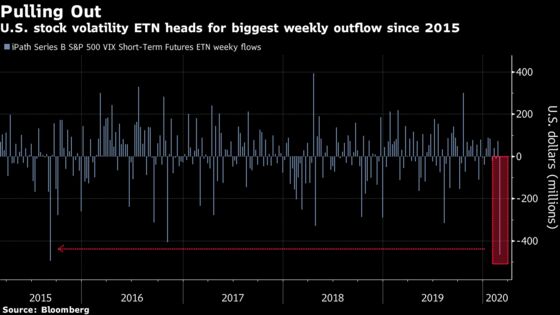 There are signs investors may see the volatility jump as temporary. The most-popular exchange-traded note tracking the VIX has already seen outflows of $466 million this week, set for the biggest weekly withdrawals since 2015 despite a 48% rally. That could be amid bets things will calm down, though it could also be due to other issues like hedging of VIX futures positions.
Whatever the reason, Tallbacken's Purves doesn't see the swings calming down anytime soon.
"Given that earnings are being revised lower, and we are still far from 'must buy' valuation levels we saw in December 2018 (even if earnings will be as advertised a few weeks ago, which they most likely won't be), we can expect volatility to be supported for some time," he said.