Thanksgiving Gasoline Slump Foreshadows Bleak Christmas
(Bloomberg) -- A slow Thanksgiving for U.S. gasoline demand is foreshadowing what will likely be a tough holiday season for American fuel makers.
Data from the long weekend showed Americans were ready to spend on gasoline ahead of Thanksgiving but not prepared to use it. A strong start to retail sales Monday and Tuesday fizzled when year-over-year gasoline demand for the entire week fell more than 25%. Wednesday demand alone was down 38% when compared with the day before Thanksgiving 2019, according to Patrick DeHaan, head of petroleum analysis at GasBuddy.
With more states going into lockdown, and coronavirus hospitalizations at a record, it's unlikely the country will see a meaningful bounce in fuel consumption through the end of the year if Americans continue to avoid travel over Christmas and New Year.
"The outlook is not good, said Robert Yawger, head of the futures division at Mizuho Securities. "Covid is just killing gasoline demand."
One place where retail gasoline appeared stronger was along Interstate 95 on the East Coast, said Jeanette Casselano, a spokeswoman for the AAA auto club. Higher prices in Atlantic states such as Pennsylvania and North Carolina contributed to a 2-cent increase in the past week to a national average Monday of nearly $2.13 per gallon, she said.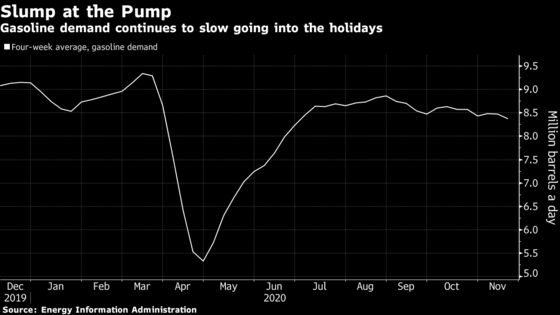 The lackluster demand underscores the extent fuel producers will struggle to profit on turning crude into gasoline until normal economic activity starts to return. Most refineries yield represents about 40% gasoline and the plants need about a $10 spread between oil and gasoline to turn a profit. The spread between Nymex gasoline futures and West Texas Intermediate crude was below $7 a barrel Monday.
"Gasoline is a problem" Yawger said. "It is showing no way that it can work itself out of this beaten-down level."​