Thailand's Economy Forecast to Contract as Much as 6%
(Bloomberg) -- Thailand sees its economy contracting as much as 6% this year, among the worst in Asia, as the coronavirus outbreak cut off travel to the tourism-reliant nation and shuttered commerce.
Gross domestic product is forecast to shrink 5%-6% in 2020, the National Economic and Social Development Council said Monday. The estimate is "based on a limited outbreak in the second quarter," the council's secretary general, Thosaporn Sirisumphand, told journalists, adding that "the situation is still hard to predict."
The new projection follows data showing GDP shrank 1.8% in the first quarter from a year ago, the first contraction since 2014. That was lower than the median estimate for a decline of 3.9% in a Bloomberg survey of economists and compares with revised growth of 1.5% in the fourth quarter.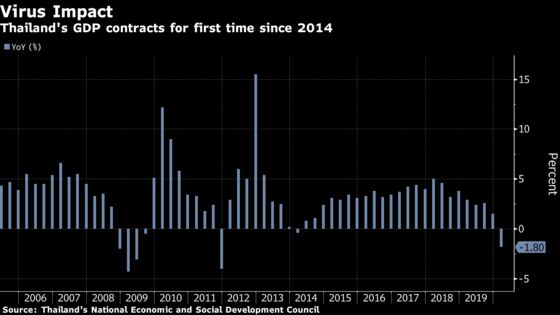 Thailand's economy is heavily reliant on tourism and trade, both of which have taken a severe knock as countries around the world imposed restrictions to contain the pandemic. Official data showed a 74.6% plunge in foreign tourist arrivals in March compared to a year ago.
"We don't really see the full impact in this quarter yet," said Somprawin Manprasert, chief economist at Bank of Ayudhya Pcl. "The worst is coming in the second quarter," and most of the population will be affected, he said. Without the fiscal and monetary easing already undertaken, "it could be much worse," he said.
The government has stepped in with a stimulus package worth about 15% of GDP -- among the largest in Asia, according to the World Bank. It's also borrowing 1 trillion baht ($31.2 billion) that will "help sustain the economy," Thosaporn said. He said the economy will likely bottom out in the second quarter, with exports and tourism unlikely to recover until late this year or in 2021.
The country's benchmark SET Index rose 0.4%, while the baht was up 0.1% against the dollar as of 10:14 a.m. in Bangkok.
The pace of recovery will depend on how quickly the economy can reopen from lockdown restrictions. The government began easing some restrictions this weekend, with shopping malls and retail businesses reopening. The chances of a second wave of infections are low, officials said Monday.
The Bank of Thailand is expected to cut its key interest rate by 25 basis points, to 0.5%, when it meets Wednesday, according to most economists surveyed by Bloomberg. The government on Monday forecast inflation of -1.5% to -0.5% this year, giving the bank room to ease.
GDP fell a seasonally adjusted 2.2% in the first quarter compared with the previous three months, better than the median estimate of a 4.2% contraction in a Bloomberg survey of economists. The fourth-quarter figure was revised down to a 0.2% contraction compared to the prior three months.
"There are few silver linings in today's report, and 2Q is naturally going to be much worst than what we saw this morning," said Howie Lee, an economist at Oversea Chinese Banking Corp. in Singapore. "With today's result, we also now heavily expect another rate cut in this week's Bank of Thailand policy meeting."