Thailand's $26 Billion Pension Fund Shuns Emerging Markets
The fund will continue to avoid investing in developing-nation equities and bonds because of the risk of increased outflows due to global trade tensions and weakening currencies, according to its Secretary General Vitai Ratanakorn.
The return on investment has been "disappointing" this year, compared with a 6.4 percent gain in 2017, as the value of domestic and foreign equities has slumped, Vitai said. The fund has boosted holdings of short-term Thai bonds by trimming domestic stock holdings, seeking to limit losses and alleviate the impact of an expected rise in global interest rates, he said. Vitai declined to provide specific investment allocations or returns.
"We are very cautious as global financial markets will remain extremely volatile with trade tensions and exchange-rate movements," Vitai said in an interview at his office Tuesday. "Further weakness in developing countries' currencies will place more selling pressure on their bonds and equities."
The fund is mulling buying more developed market stocks as their share prices will probably outperform emerging markets due to more stable economies and currencies, Vitai said. It may also increase holdings in commercial property and real estate investment trusts, which will likely be relatively insulated from volatile financial markets, he said.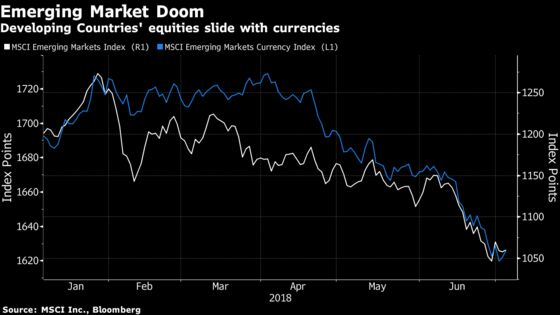 International funds have reduced emerging-market investments amid escalating trade tensions between the U.S. and other countries. Portfolio outflows from developing markets accelerated to $8 billion in June from a $6.3 billion selloff in May, according to data on the Institute of International Finance's website.
The MSCI Emerging Market Index, a measure of developing countries' equities, has slid more than 8 percent this year after the U.S. government said it would impose tariffs on imports from China and other countries. A gauge of emerging-market currencies has dropped more than 3 percent in 2018, set for the first yearly decline in three years, according to Bloomberg data.
Thailand's Government Pension Fund, which invests on behalf of Thailand's government and state enterprise employees, had about 19 percent of its assets in equities in Thailand and overseas markets as of March 31, according to its website. Of the balance, about 60 percent was held in Thai government and corporate bonds, with the rest in Thailand and offshore property and fixed income.
As of May 31, the fund had total assets of about 865 billion baht ($26 billion) from 1 million members, according to the fund's website.