Thailand Mulls Emergency Borrowing That Could Top $6 Billion
(Bloomberg) -- Thailand said it's mulling emergency borrowing to support the economy over the next two to three months, as officials step up efforts to mitigate some of the impact of the novel coronavirus outbreak.
The Finance Ministry has been asked to work on a "big" stimulus package, Deputy Prime Minister Somkid Jatusripitak said in a briefing Friday in Bangkok. Extra borrowing in excess of 200 billion baht ($6.2 billion) is possible given the strength of the government's finances, he said.
Southeast Asia's second-largest economy is forecast by the Bank of Thailand to shrink 5.3% this year, despite a series of already announced stimulus programs. That would be the worst contraction since the Asian financial crisis.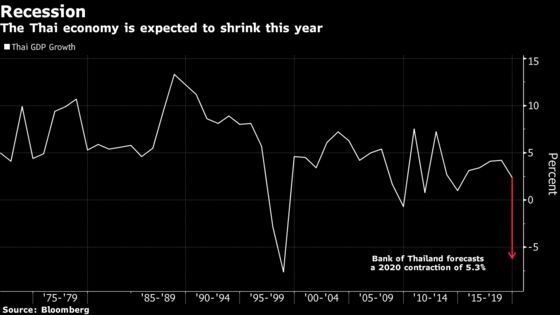 There's no limitation on the size of the potential new funding, Somkid said, adding the eventual program will be large and nationwide given the depth of the current economic problems.
The coronavirus outbreak has badly damaged both tourism and domestic consumption, two key drivers of expansion, amid restrictions to curb the spread of the disease known as Covid-19.
Thailand's stock and bond markets, and its currency, have all slumped this year too, although they steadied this week after the Bank of Thailand took steps to support financial markets.
Read More: Emergency Steps Bring Hint of Stability for Thai Assets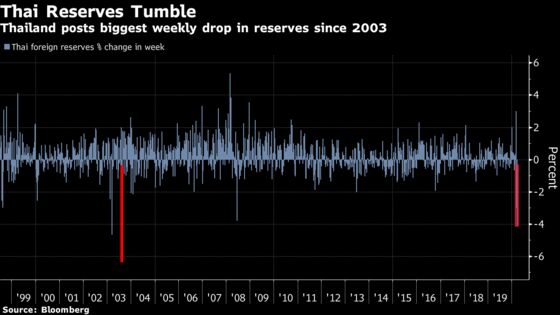 The central bank backstopped the corporate bond market with a new lending program to stabilize the fixed-income mutual fund sector. The monetary authority previously said it's running down international reserves to help ensure sufficient liquidity.
Data released Friday showed foreign reserves were $219.9 billion on March 20, down 4.1% from a week earlier. That's the biggest such drop since 2003, according to figures compiled by Bloomberg.
The benchmark SET index of equities rose 1.6% as of 3:30 p.m. Friday in Bangkok, on course for a fourth straight day of gains. The baht advanced 0.4% against the dollar.
The Health Ministry said Friday confirmed infections have risen by 91 to 1,136, and that another person died, taking overall fatalities to five.