Bank of Thailand Sees 8.1% Contraction, Pledges More Support
(Bloomberg) -- The Bank of Thailand held its benchmark interest rate at an all-time low to support an economy it now sees contracting more than 8% this year, the worst on record.
The central bank kept its policy rate at 0.5% on Wednesday in a unanimous decision, in line with the forecasts of all but four of the 26 economists in a Bloomberg survey.
Policy makers revised down their growth forecast sharply, predicting an 8.1% contraction for this year, compared with a previous projection of a 5.3% decline. The coronavirus pandemic has devastated two of the economy's main growth drivers, tourism and trade, with a slow recovery seen.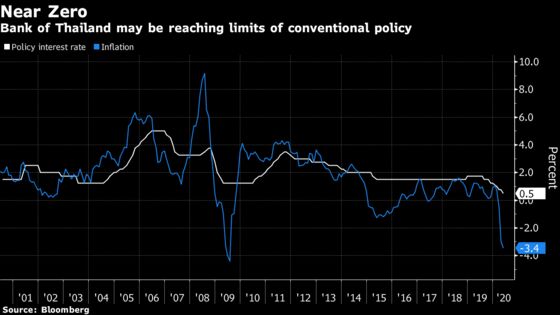 With interest rates close to zero, the central bank is slowly running out of conventional policy space to support the economy. Officials have said they are studying unconventional steps, such as asset purchases and some form of yield curve control.
"While the decision to hold rates unchanged came as no surprise, the sharp downward revisions to growth and inflation forecasts highlight the extent of pressure on the economy," said Mitul Kotecha, a senior emerging markets strategist at TD Securities in Singapore.
Some of the additional forecasts outlined by the central bank on Wednesday:
Gross domestic product is seen rebounding to 5% next year, higher than the 3% forecast in March
Consumer prices will probably contract 1.7% this year compared with a previous projection of -1%; core inflation is seen at 0%
Exports will probably plunge 10.3% this year versus a previous forecast of -8.8%
Tourist arrivals in 2020 will probably reach 8 million, down from an earlier projection of 15 million
"BoT's new forecasts signal slower economic recovery, leaving room for further rate cuts," said Tim Leelahaphan, an economist at Standard Chartered Plc in Bangkok. "We forecast a 25 basis point cut in the third quarter."
With the virus outbreak easing, the government has begun lifting lockdown restrictions and reopening parts of the economy, giving a boost to local demand. Export demand remains weak though, with data on Wednesday showing a 22.5% plunge in shipments in May from a year earlier, the biggest drop since 2009.
The currency is also emerging as a concern for policy makers worried that the strong baht will further undercut the fragile economy. The baht has gained more than 6% against the dollar in the past three months, making it the best performer in Asia after Indonesia's rupiah.
The monetary policy committee is "concerned about the strengthening baht which affects the economic recovery," Titanun Mallikamas, an assistant governor, told reporters in Bangkok. "They see the need to monitor the baht closely and assess the need for additional measures if needed."
Thailand's benchmark SET Index reversed its gain, falling 0.2% as of 2:52 p.m. in Bangkok. The baht extended its advance, rising 0.4% against the dollar.
TD Securities' Kotecha said the central bank will likely deliver more currency measures in the weeks ahead.
"However, it is notable that the baht has so far ignored such measures and it will be a challenge to prevent further appreciation," he said.
The Bank of Thailand is facing a leadership transition with current Governor Veerathai Santiprabhob planning to leave his post after completing his five-year term in September. A selection committee is considering applications from four candidates, including from two current deputy governors, according to local media reports.