Thailand Holds Rates, Warns on Growth Amid Worst Covid Wave
(Bloomberg) -- Discover what's driving the global economy and what it means for policy makers, businesses, investors and you with The New Economy Daily. Sign up here
Thailand's central bank kept its benchmark interest rate unchanged for an eighth straight meeting, warning that its forecast for economic recovery was threatened by the country's biggest virus wave since the pandemic began.
The Bank of Thailand held the policy rate Wednesday at 0.5% in a unanimous decision, as expected by all 22 economists in a Bloomberg survey.
A flareup of Covid-19 that began in Bangkok nightlife venues has spread nationwide, more than doubling Thailand's total caseload since early April. The government tightened restrictions on May 1, likely slowing a rebound from the economy's deepest contraction in more than two decades.
"Vaccine procurement and distribution is the hero for economic recovery. Fiscal and monetary policies play supporting roles," Assistant Governor Titanun Mallikamas told reporters in Bangkok Wednesday. With the central bank's forecast of 3% economic growth now at risk, he said it was prudent to preserve limited policy space for now, but the bank could use "additional policy tools" if needed.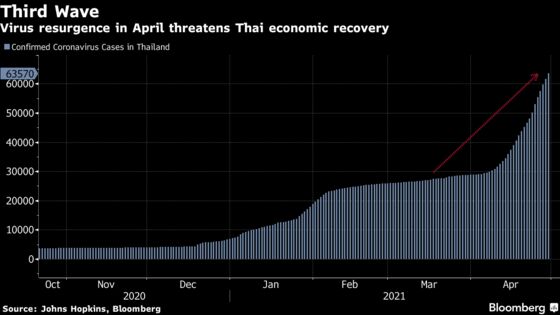 The baht was nearly unchanged at 31.128 to the U.S. dollar as of 3:47 p.m. local time. The benchmark SET Index fell as much as 2.2%, its largest drop since December, before paring some losses.
What Bloomberg Economics Says...

"The Bank of Thailand keeping rates on hold in a unanimous decision, despite a 'much lower' growth forecast, reinforces our view that we won't see any changes in the policy rate this year. More likely actions to support growth would come in the form of FX measures to curb baht strength (if needed) or targeted liquidity support."

-- Tamara Henderson, Asean economist
The government recently prepared an additional budget worth 380 billion baht ($12.2 billion) to boost the economy, which had just started recovering from a second wave of infections that began in mid-December. The Finance Ministry last week cut its 2021 GDP forecast to 2.3% growth, from 2.8% expected earlier, to factor in the impact of the latest wave, especially on tourist arrivals.
The government voted Wednesday to extend measures, such as cash handouts and spending subsidies, and introduced new steps to boost the economy. Prime Minister Prayuth Chan-Ocha said the measures were expected to generate 473 billion baht in economic activity.
The economy will recover more slowly than anticipated due to the recent outbreak, Titanun said, identifying fragile smaller businesses and the speed of vaccinations as particular concerns. A slow vaccine rollout -- which would make it more difficult to reopen the tourism sector -- could bring GDP growth as low as 1%, he said. The bank will formally review its economic forecasts at next month's policy meeting.
"This will go down as the weakest recovery in Asia from a record economic slump last year," said Prakash Sakpal, senior economist at ING Groep NV in Singapore, who cut his 2021 GDP forecast to 2.1% from 2.8%. "Stable monetary policy remains the baseline for this year, leaving all the heavy lifting for supporting growth to fiscal policy."
Other points from Titanun's briefing:
Inflation may accelerate in the second quarter due to a low base of comparison in 2020, remaining within the 1%-3% target range in the medium term
If the country can administer 100 million vaccine doses, it could receive 1.2 million visitors this year -- lower than previous estimates -- and 15 million next year
On the low end of forecasts, if fewer than 65 million vaccine doses are given this year, the country could see only 800,000 visitors this year and 8 million in 2022
Depending on the speed of the vaccination campaign, next year's GDP growth could range from 1.1% to 4.7%
"The recovery will ultimately hinge on the vaccine roll out," Australia & New Zealand Banking Group economists Krystal Tan and Sanjay Mathur wrote. The slow going so far "means that movement curbs will remain key to containing the current outbreak, and that the risk of fresh virus waves will persist in the coming months."