Thai Firms Worth $3 Billion May List When Political Clouds Clear
(Bloomberg) -- Thailand's stock exchange expects at least three new "large" initial public offerings this year after equity trading dropped and new share sales slowed amid the nation's ongoing political deadlock.
The family-owned businesses will each have a market valuation of between $1 billion and $3 billion, said Pakorn Peetathawatchai, president of the Stock Exchange of Thailand, without elaborating. Speaking in an interview in New York, he said political uncertainty in Southeast Asia's second-largest economy may prompt investors to sit back and wait for a clearer outlook before buying back into Thailand equities.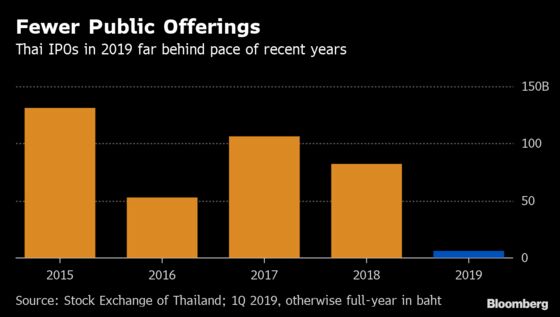 "Some investors will probably wait and see what will happen" with the formation of a new government, said Pakorn. The picture of a new government may be clearer next month after the Election Commission announces official results of the parliamentary election, he said.
Thailand's March 24 election came after almost five years of military rule but failed to deliver enough seats to allow any single political party to form a government. Official results are due by May 9.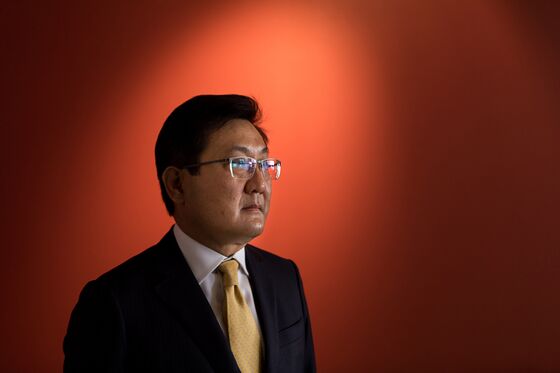 In the absence of clarity, Thai stocks haven't followed a historical pattern of rallying strongly after a national election, and the central bank has said a prolonged delay in forging a legislature may crimp economic growth.
"Subdued market sentiment makes companies more cautious in pushing their IPOs," said Montree Sornpaisarn, the chief executive officer of Maybank Kim Eng Securities (Thailand) Pcl. "Still, we have high optimism that this political drama will finally be resolved, paving the way for a rush of market activities including new share offerings."
Pakorn didn't identify companies that may be planning initial share sales this year.
But state-controlled energy giant PTT Pcl is planning an IPO of its retail oil business. Thailand's richest man Charoen Sirivadhanabhakdi is considering an IPO of Asset World Corp., a domestic property business that could raise at least $1.5 billion.
One of the country's biggest conglomerates, Central Group, is studying options including a potential listing of retail assets, while a Thai unit of Kerry Logistics Network Ltd., backed by Malaysian billionaire Robert Kuok, is said to be eyeing an IPO, people with knowledge of the matter have said.
So far this year, four companies and one real estate investment trust have raised a total of 10.4 billion baht ($320 million) in initial share sales, according to data on the stock exchange's website. That compares with six IPOs that raised 12 billion baht in the January-April period of 2018, when 81.6 billion baht was raised for the full year.
A new government will continue its investments on large infrastructure projects, which would support economic growth, said Pakorn. In the meantime, the junta-backed administration is planning to inject new stimulus into Southeast Asia's second-largest economy amid the political gridlock, according to Finance Minister Apisak Tantivorawong.
Trading turnover on the stock exchange's main board averaged 41 billion baht per day in March and April, a 14 percent drop from the previous two months, according to data compiled by Bloomberg. International investors have withdrawn a net $312.9 million from domestic equities so far this year, adding to a record $8.9 billion selloff in 2018.