Terry Gou's Pitch for Presidency Is Massive Boost for Stocks
(Bloomberg) -- Foxconn billionaire founder Terry Gou's bid for Taiwan president is fueling a speculative frenzy in some of his company shares.
FIH Mobile Ltd. surged as much as 58 percent in Hong Kong before paring gains to close up 6.4 percent. Foxconn Industrial Internet Co. was the biggest contributor to gains on the Shanghai equities benchmark for a second day, adding around $9.8 billion in value over that period. Hon Hai Precision Industry Co. closed down 0.2 percent in Taipei after earlier rising as much as 5.9 percent to its highest level since October.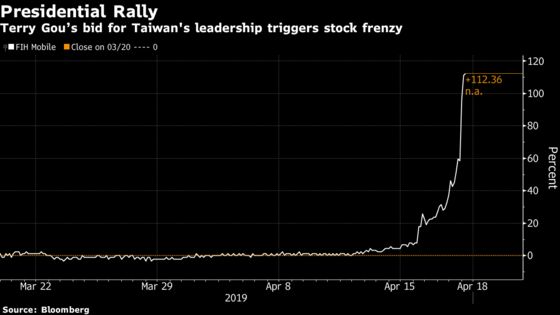 The Taiwanese billionaire said on Wednesday he would seek the nomination of the China-friendly opposition Kuomintang party in next year's election, a process expected to play out in the coming weeks. Current President Tsai Ing-wen's Democratic Progressive Party advocates a more decisive break from the mainland.
"We are upholding our view and we are treating Gou's bid neutrally for now," Daiwa Securities Capital Markets analyst Kylie Huang said. "We will wait and see whether Gou's move may lead to him to leave the company board and quit as chairman and if that happens, whether investors will be comfortable with management reshuffle."
Gou has no clear successor, and the announcement raises questions about how the company will be run. Louis Woo, his special assistant, told Bloomberg that while Gou would be stepping back from operations and focusing on strategy, he didn't plan to relinquish his chairmanship.
"FIH Mobile is boosted by Gou's decision to run for Taiwan's president, but it's hard to say whether he will be elected, and uncertain how that will help the company," Daniel So, a strategist at CMB International Securities Ltd., said, adding that the firm had been making losses and lacked fundamental support. "I am sure it will face large correction pressure as it's purely sentiment-driven speculation."