Tepper Posts 7% Hedge Fund Gain While Tackling Football Deal
(Bloomberg) -- David Tepper, who won the bidding contest for the Carolina Panthers this week, has been beating most of his hedge fund rivals too.
His Appaloosa Management returned about 7 percent this year through April for clients paying a 2 percent management fee and 25 percent of profits, according to a person familiar with the matter. That tops the slight gain of the Hedge Fund Research multistrategy index and the broader stock market, which fell.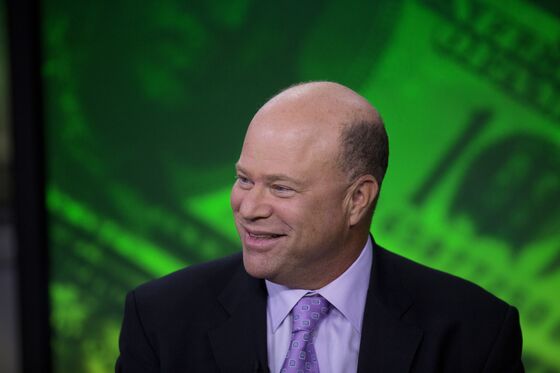 Many hedge funds have struggled to find their footing this year as concern over interest-rate hikes and trade wars churned markets. Miami-based Appaloosa made money by betting against Treasuries and going long on stocks such as Micron Technology Inc., the person said. The semiconductor company's shares jumped almost 12 percent in the first four months of this year.
The 60-year-old billionaire made headlines this week in pursuit of one of his other big interests -- professional football. He won a contest with other bidders for the Carolina Panthers. He agreed to pay $2.3 billion in an all-cash deal, a record amount for a National Football League franchise, Bloomberg reported.
Assets in Appaloosa, now at $17 billion, dropped from $18.3 billion at the end of January. Seventy percent of those assets belong to Tepper and the firm's employees. He has returned at least a billion dollars to investors annually over the past few years, except in 2017, the person said.
Appaloosa has several share classes that charge different fees. The biggest class, to which Tepper belongs, doesn't pay any fees and earned a 10 percent return this year, the person said.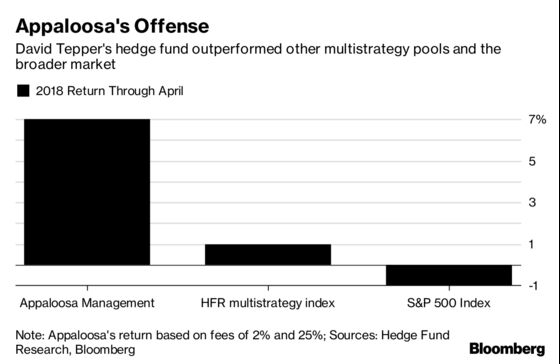 Last year Appaloosa produced a 13 percent gross return, or 8 percent for investors who pay fees of 2 and 25 percent, driven by wagers on Micron, Facebook Inc. and the debt and equity of distressed casino operator Caesars Entertainment Corp., the person said. That was a far cry from the 19 percent gain of the S&P 500 Index.
A spokesman for Appaloosa declined to comment.
Tepper, who in 2016 moved his hedge fund to tax-friendly Florida, also has been focusing on philanthropy. He has given Carnegie Mellon University, where he got his MBA, more than $125 million. A $55 million gift in 2004 led to the renaming of the business school after Tepper. He also funded the development of a 300,000-square-foot building on the "Tepper Quad," a university hub that will house the business school and open in the fall.
On May 20, he will give the commencement address at CMU in his hometown of Pittsburgh.