Tencent Traders Prepare for Wildest Day Since 2015
(Bloomberg) -- For clues on what Tencent Holdings Ltd.'s shares will do tomorrow, look to the traders who got it spot-on in August.
The options market is pricing in a 5.6 percent move for the stock either way following the internet giant's third-quarter update, due before 8 p.m. in Hong Kong. That would mark the biggest post-results reaction for the largest component of the MSCI Emerging Market Index since August 2015, data compiled by Bloomberg show. Tencent closed 0.8 percent lower Wednesday.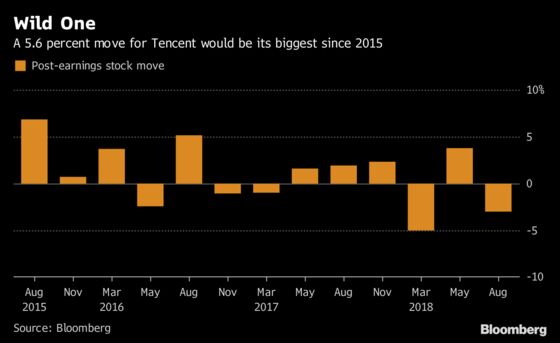 Despite a $245 billion loss of shareholder value since a January high that's already broken all kinds of records, the outlook for some of Tencent's most profitable businesses is getting bleaker: China's economic slowdown is putting a lid on advertiser spending, while regulators are unlikely to loosen their grip on the gaming industry. Another warning sign came just last week with Japanese rival Nexon Co., which said sales in China will slump. A string of earnings shockers also roiled Chinese tech shares.
The release will be the first since Tencent reshuffled its structure, reducing the total number of business groups to six from seven. The company is also said to be scaling back its marketing to improve its cash flow.
"We expect short-term pain to linger," China International Capital Corp.'s Natalie Yue Wu wrote in a Nov. 9 note. "We appreciate that Tencent is trying to create synergy by restructuring, but we believe that it has to move faster, as growth of games has already slowed."
Derivatives traders have sent the cost of hedging Tencent to a one-year high relative to the Hang Seng, after the stock became twice as volatile as the benchmark. Tencent's depositary receipts traded in the U.S. have also been volatile, gaining 4.1 percent Tuesday after declines of more than 3 percent in each of the previous three sessions.
Goldman Sachs Group Inc. is one of 11 brokers tracked by Bloomberg to have cut its price target for Tencent this month. In addition to challenges for gaming and ad sales, Goldman predicts weaker growth for Tencent's payment unit as China's consumer credit industry slows, according to a Nov. 11 note.
Bullish analysts have been behind the curve throughout 2018, missing the 33 percent slump that's made it the worst year for investors since Tencent first started trading in 2004 -- by a wide margin. Despite recent cuts to earnings and targets, analysts on average still say the shares will rebound 51 percent in the next 12 months.
They expect revenue rose just 23 percent in the third quarter, the fourth consecutive period of slowing growth and the worst pace in more than three years. While Tencent has a low bar to beat this earnings season, tempered expectations didn't stop the shares from dropping 3 percent after the last quarterly update in August.
A short squeeze just two weeks ago showed how painful it can be to bet against Tencent, even if an earnings-fueled rally lasts only a day.
Gross margin: 45.74 percent (14 estimates)
Revenue: 80.41 billion yuan (20 estimates)
Net income (GAAP): 18.4 billion yuan (12 estimates)
Operating profit: 22.8 billion yuan (13 estimates)
Timing: Release after market Nov. 14, conference call at 8 p.m. in Hong Kong: details