Tencent Stops Flogging the Dead Horse of Old Titles
(Bloomberg Opinion) -- It's about time Tencent Holdings Ltd. got with reality.
China's internet and games giant has decided to slash the budget for promoting online titles amid a regulatory disruption, Bloomberg's Lulu Chen reported, citing an internal company memo.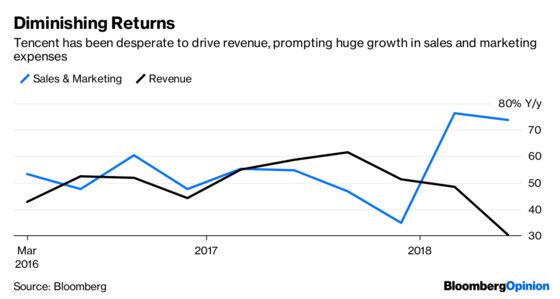 This near-freeze has been in place since early this year, yet Tencent continued to plow ahead with marketing in the hope that it could squeeze some revenue out of older titles. In the first quarter, for example, sales and marketing expenses climbed 76 percent – the quickest pace in four years – yet revenue itself only rose 48 percent. The disparity was even worse in the second quarter.
In deciding to halt or tame its spending, Tencent has finally decided to stop flogging the dead horse of old titles. It doesn't solve the problem of monetizing new games, but at least it means the company will stop burning money for no real outcome, keeping its powder dry for a resumption of the gaming war.
This column does not necessarily reflect the opinion of the editorial board or Bloomberg LP and its owners.
Tim Culpan is a Bloomberg Opinion columnist covering technology. He previously covered technology for Bloomberg News.