Japan Game Stocks' Plunge Show Their Exposure to Chinese Regulations
(Bloomberg) -- Japanese video game shares plunged in Tokyo Tuesday, as the country's stock market was given a jolting reminder of how exposed some sectors are to the vagaries of Chinese regulation.
Game stocks including Koei Tecmo Holdings Co. and Nexon Co. plunged after comments in Chinese state-linked media sent Tencent Holdings Ltd. shares diving, amid fears the videogame sector would be the next to be targeted by Beijing.
Nexon, for whom China is one of the biggest markets, making up 28% of its revenue in the last fiscal year, finished 6.5% lower. The stock is the second-worst performer on the Nikkei 225 Stock Average in 2021.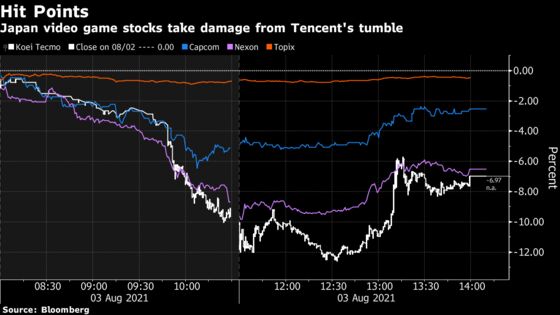 The revenue growth outlook for Nexon "is obscured by yet another round of regulatory scrutiny on games content in the country," wrote Bloomberg Intelligence analysts Matthew Kanterman and Nathan Naidu in a note. "The specter of continued regulatory crackdowns compounds Nexon's woes."
With the exception of SoftBank Group Corp., heavily exposed to China through its stake in Alibaba Group Holding Ltd., Japan's stocks have seen relatively little direct impact from Beijing's recent regulatory moves on the e-commerce, ride-hailing and online education industries. The Topix index is up 1.4% since investors began reacting to China's sweeping tutoring sector reforms, versus a 3% decline in the CSI 300 Index.
Koei Tecmo, which has seen China become an increasingly important market as profits from titles licensed there grow, fell as much as 13% and closed down the most since November. It has announced plans to release a title in its Dynasty Warriors franchise to be published by Tencent.
Even the giants of the industry were impacted, with Nintendo Co. falling as much as 2.6%. The Kyoto-based firm, which reports earnings on Thursday, partners with Tencent to sell its Switch console in China. DeNA Co. dropped 3.9%, while Capcom Co. fell as much as 6.8%.