Templeton Stays Short Treasuries as Hasenstab Sees 4% Yield
(Bloomberg) -- As global bonds catch a bid on haven demand, Michael Hasenstab is doubling down on his call for a breakout in Treasury yields.
The Franklin Templeton bond chief reiterated a call first made in May that a "perfect storm" of inflationary pressures is lining up to push U.S. benchmark bond yields past 4 percent, a closing level they haven't reached in more than a decade. Filings show he's also putting money behind the wager by extending a record short bond bet in his $35 billion Templeton Global Bond Fund.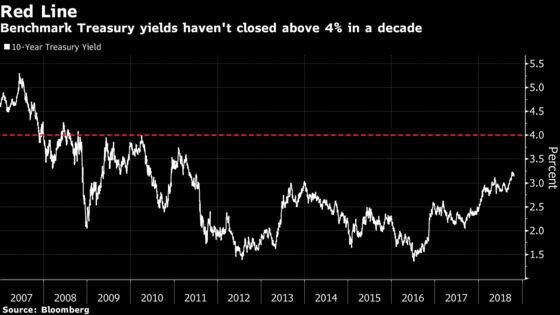 "A year ago, when it was at 2 percent and we said very easily it will get to 3 percent, we didn't get a lot of believers," Hasenstab said in a podcast published on Templeton's website on Tuesday. "It's now a little bit above 3 percent, it could easily get above 4 percent."
Hasenstab's call is an outlier and echoes an extreme Treasury scenario outlined by JPMorgan Chase & Co.'s Chief Executive Officer Jamie Dimon. After surging since late August to 3.26 percent, 10-year note yields have struggled to hold above 3.15 percent and have dropped this week amid a flight to haven assets as stock markets sold off.
The median forecast of 54 analysts surveyed by Bloomberg sees the rate reaching only 3.49 percent by the end of next year.
Hasenstab says inflationary pressures are coming from the labor market running at full capacity, trade disputes that will lead U.S. consumers to pay more for their goods, and the growing fiscal deficit in Washington. Average duration, a measure of interest-rate risk, dropped to minus 1.34 years in the flagship Global Bond Fund at the end of the third quarter, according to a filing posted on Templeton's website.
The bet has helped the fund outperform in 2018 after three years of outflows and lackluster returns. The portfolio has posted a 1.8 percent gain this year, beating 95 percent of peers, according to data compiled by Morningstar Inc.
"We have a full labor market and it's getting tighter, that's inflationary," Hasenstab said. "There are certainly no growing deflationary pressures."