Technical Levels Buckle as Stock Sell-Off Pushes to Sixth Day
(Bloomberg) -- Bulls and bears waged battle at a key technical level as U.S. stocks remained mired in the longest sell-off of Donald Trump's presidency.
The S&P 500 tumbled in late-morning trading after coughing up early advances, with the selling taking the equity index through a level that has provided support during three prior periods of selling this year.
The measure fell as much as 1.4 percent to 2,745, piercing the 2,765 level that is the average price over the past 200 days for the first time since May. The index bounced back to 2,763 as of 11:26 a.m. in New York. It blew through the 50- and 100-day averages earlier this week.
"If stocks trade as though the 200-day doesn't exist, this would signify that whoever had the ammunition to be buying in the early part of the year is no longer interested in doing that," said Jeff deGraaf, Renaissance Macro's co-founder.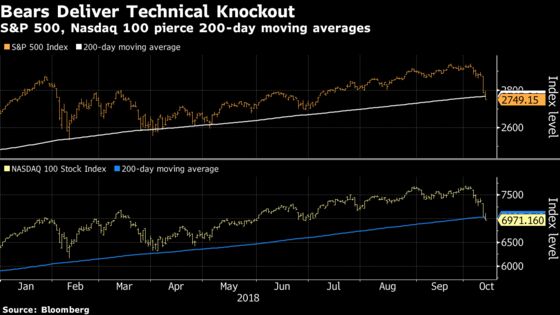 The tech-heavy Nasdaq 100 Index hadn't been below its 200-day average in over two years before crashing through it Thursday. The index traded right down to it on Wednesday as it plunged 4.4 percent in the steepest slide since 2011.
For both measures, the technical lines of defense held in February, ending a rapid retreat in U.S. stocks amid the blowup of the short-volatility trade. The line also served as a terminus for bouts of selling in April and May as well.
The S&P 500 Index is also trading near its 65-day low, an indicator used by some trend-following funds to gauge whether it's time to change course, upping the stakes for short-term price action, deGraaf added.