Tech Turnaround Should Ring Familiar to Whipsawed Investors
(Bloomberg) -- If the rebound in U.S. technology stocks from their jarring recent declines isn't giving investors a sense of deja-vu, it probably should be.
The biggest exchange-traded fund tracking the tech-heavy Nasdaq 100 Index has taken back almost half the 8.7 percent it lost during this month's flash sell-off in U.S. equities. While some were spooked by the plunge coming during the run-up to third-quarter earnings, longer-term investors should take notice that the recent pullback appears to be falling into what has been a consistent pattern for 2018.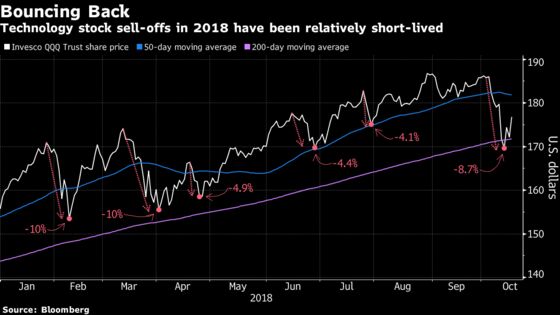 Through the first three quarters of the year, the $66.3 billion Invesco QQQ Trust exhibited five separate drawdowns of varying degrees. The steepest and longest was a 10 percent drop over 27 calendar days, with the shortest spanning 4.1 percent over five days. A simple average of the five drawdowns yields an average peak-to-trough move of 6.7 percent over a 14 day period.
While the most recent slump started Oct. 1, when the technology ETF hit an intraday record high, investors may have already seen this sell-off's recent bottom. Shares have rebounded 4 percent since October 11th, the 10th day into the drawdown.
Netflix will kick off third-quarter earnings for large cap technology shares later today, depending on investor's reaction, it could help solidify the recent recovery for major tech indexes.