When It Comes to Volatility, Tech Stocks Are the New Bitcoin
(Bloomberg) -- When it comes to wild price swings, all the action of late is with technology giants -- not Bitcoin.
The sector has been front and center of the global equity sell-off while the digital currency has remained listless. That's pushed the spread between the 10-day volatility of the NYSE FANG+ Index and the digital currency to a record high of 46 percentage points, according to Bloomberg data.
The trend may continue amid choppy market sentiment and earnings disappointments from Amazon.com Inc. and Google's Alphabet Inc.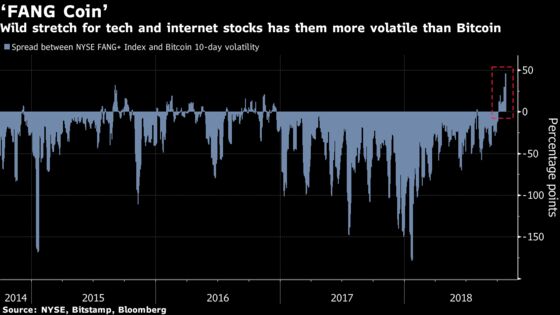 "Volatility is coming into the traditional markets and when things correct, it's going to be the outperformers like tech which are the most volatile," said Timothy Tam, co-founder and CEO of CoinFi, a cryptocurrency research firm.
The NYSE index includes Facebook Inc., Apple Inc., Netflix Inc. and Alibaba Group Holding Ltd. Strong results from Twitter Inc. and Tesla Inc. this week have also fuelled heavy trading in the group.
As for Bitcoin, it's been rangebound for months now, in contrast to the frenzy in 2017. The digital currency's 10-day volatility hasn't been this low since October 2016, when it traded below $1,000.
Regulatory scrutiny, modest institutional investment and limited mainstream adoption have helped to erase more than $600 billion from the value of cryptocurrencies since the January peak, according to data from CoinMarketCap.com.
"Bitcoin volatility has died down because the froth of last year's euphoric market has been taken out and trading volumes are lower," Tam said.