Tech Stock Rout Bleeds Into Japan as Apple Suppliers Plunge
(Bloomberg) -- Japanese shares took a dive, with the Topix gauge losing as much as 3.1 percent on a selloff in technology companies following new signs of weak iPhone demand.
The benchmark measure posted its worst performance in almost three weeks, though it narrowed some of its earlier losses. Apple Inc. suppliers took a beating with Japan Display Inc. tumbling 9.5 percent to its lowest since debuting in 2014, and Minebea Mitsumi Inc. sliding 3.1 percent. JDI, which manufactures liquid crystal displays used in iPhones, on Monday cut its forecasts for sales growth and operating margin, citing volatile customer demand. The stock was subsequently downgraded to neutral by Macquarie.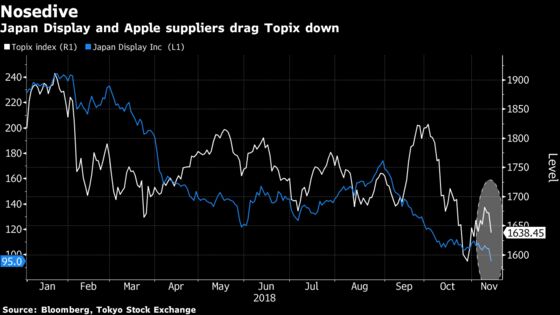 Major Apple suppliers fell in New York as Lumentum Holdings Inc. cut its second-quarter outlook after one of its largest customers asked to "meaningfully reduce shipments" for previously placed orders. The Nasdaq 100 dropped 3 percent, extending its three-day decline past 5 percent.
"There's an overreaction to anxiety over earnings for Apple, which tends to serve as a barometer for the tech sector," said Yoshihiro Ito, chief strategist at Okasan Online Securities Co. in Tokyo. "The dive in U.S. equities was the result of a combination of rising long-term yields, signs of a slowdown in economic data and worries over the U.S.-China trade friction."
Topix -2% to 1,638.45 at close in Tokyo, biggest decline since Oct. 25
Nikkei 225 -2.1% at 21,810.52 versus 3.5% dip earlier
Yen -0.1% at 114.00 per dollar
Technology group: Sony -2.7%, Fanuc -4.3%

Other Apple suppliers: TDK -6.3%, Alps Electric -4.8%, Murata Manufacturing -4.8%

Autos: Toyota -2.4%, Honda -2.2%
Chemicals group: Shin-Etsu Chemical -4.7%, Kao -2.2%