Stocks Climb as Energy, Tech Strength Lift Indexes: Markets Wrap
(Bloomberg) -- Stocks rose Wednesday as tech rallied and surging oil pushed energy shares higher. The dollar fell and Treasuries clawed back from an early retreat amid speculation the Federal Reserve may soften its stance on raising interest rates.
Most major U.S. equity benchmarks were up in light pre-Thanksgiving trading, although they gave back some ground in the afternoon to finish near session lows, with the Dow Jones Industrial Average ending flat. The small-capitalization Russell 2000 Index climbed 1.3 percent to pace the gains, and the Nasdaq 100 Index wiped out nearly half of its decline from Tuesday.
Energy was the strongest group in the S&P 500 Index, as WTI crude rebounded from a one-year low to leap back above $54 a barrel. Apple Inc. surrendered an earlier gain to close down for a third straight day, bringing its loss this week to 8.6 percent.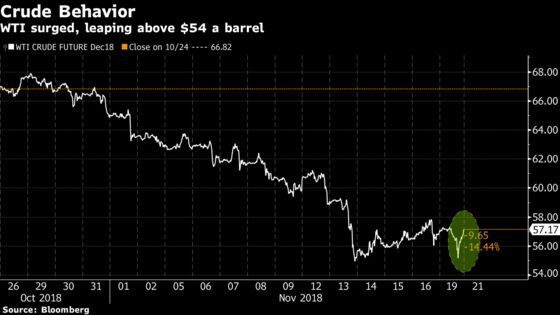 "The FANGs were doing all the heavy lifting for the indexes, and now that that's come unwound somewhat," said Craig Brothers, head of fixed income at Bel Air Investment Advisors. "Tech had an oversize effect on the rally and an oversize effect on the selloff because it's such a big portion of the indexes."
Here are some of the equity moves:
Foot Locker Inc. jumped 15 percent, the most since May, after posting strong third-quarter earnings.
CBS Corp. rose amid speculation of a coming merger with Viacom Inc., which also saw its stock climb.
Gap Inc. added almost 5 percent despite reporting weak earnings as investors appeared to finally buy the dip on a company that had lost almost 10 percent this month.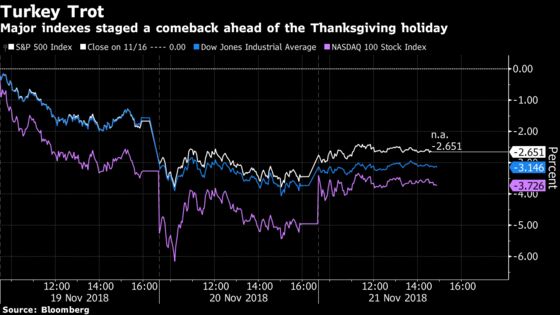 The dollar weakened after MNI reported the Fed is considering ending a cycle of interest rate hikes as early as the spring. In addition, U.S. data showed that durable goods orders declined and filings for unemployment benefits rose.
"The market is really trading on technicals, a lot of the tech names are very overvalued," Rahul Shah, chief executive officer of Ideal Asset Management. "For a name like Apple, you could argue that some buyers are coming in at this level. But overall, today's action might be an oversold bounce. I wouldn't read it as a shift in the tenor of the market."
Banks and telecommunications companies led an advance in the Stoxx Europe 600 Index as optimism for a compromise on Italy's budget buoyed stocks. The euro gained and Italian bonds firmed on reports the Italian government may be open to budget revisions as the European Union took a first step toward imposing fines on the country.
Apple's plunge Tuesday hit suppliers in Asia, sending the leading benchmark tracking Asia-Pacific stocks lower. Oil . Investors are weighing industry data that showed U.S. crude inventories unexpectedly fell last week against doubts about OPEC's plans to cut output.
Investor sentiment remains susceptible to the volatility that's rocked markets since October. Traders are having to contend with the Trump Administration's trade war, as well as the president's calls on the Federal Reserve to back off from raising rates as corporate credit spreads at two-year highs reflect investor angst about borrowing costs.
"There are still concerns, particularly over China and the path of the Fed and that will likely continue," said Jennifer Ellison, principal at San-Francisco based BOS, which manages $4.5 billion. "It's part of the volatility we're in."
Elsewhere, emerging-market shares climbed, and an index tracking developing-nation currencies reached the highest since August. Bitcoin advanced after a recent sell-off.
Terminal customers can read our Markets Live blog.
It's a shortened trading week because of the Thanksgiving holiday in the U.S. on Thursday. In addition, Black Friday, the day after Thanksgiving, marks the traditional start to the U.S. holiday shopping season.
These are the main moves in markets:
The S&P 500 rose 0.3 percent to 2,649.93 and the Nasdaq 100 gained 0.8 percent.
The Stoxx Europe 600 surged 1.3 percent.
The MSCI All-Country World Index increased 0.4 percent.
The MSCI Emerging Market Index climbed 0.3 percent.
The Bloomberg Dollar Spot Index slid 0.1 percent.
The euro jumped 0.1 percent to $1.1384.
The Japanese yen declined 0.3 percent to 113.07 per dollar.
The British pound dipped 0.1 percent to $1.2776.
The MSCI Emerging Markets Currency Index rose 0.1 percent to the highest since August.
The yield on 10-year Treasuries was little changed 3.0609 percent.
Germany's 10-year yield climbed three basis points to 0.376 percent.
Britain's 10-year yield added one basis point to 1.396 percent.
The Bloomberg Commodity Index increased 0.5 percent.
West Texas Intermediate crude rose 2 percent to $54.48 a barrel, the largest gain in seven weeks.
Gold climbed 0.3 percent to $1,225.56 an ounce.