Tech Rebound Hits a Speed Bump as Apple Shares Drop on Earnings
(Bloomberg) -- The Nasdaq 100's biggest rally in almost three years ran into trouble late Thursday as Apple Inc.'s holiday forecast disappointed investors, dragging down tech stocks
Shares of the iPhone maker were down as much as 7.7 percent in extended trading, a decline that if sustained Friday would mark the worst earnings reaction in more than four years. The Invesco QQQ Trust, the biggest ETF tracking the Nasdaq 100 index, dropped 1 percent, poised to halt a three-day, 5.3 percent gain that was the biggest since early 2016.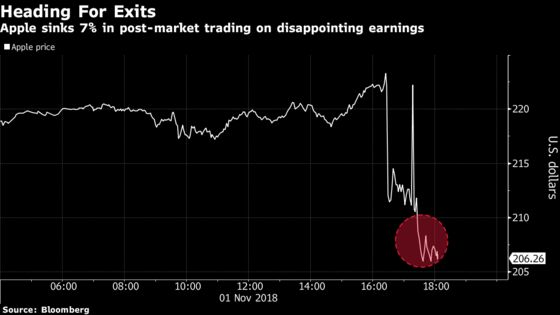 "We're trying to rally. I don't know how much substance is in the rally, but tech is leading it. And now you have Apple's earnings coming out," said Stephen Carl, head trader at Williams Capital Group. "The market is going to pivot on that. That's what the story is going to be tomorrow morning."
Apple is joining tech giants such as Amazon and Alphabet in failing to instill confidence in a market that just suffered the worst month in seven years. Throughout October, as large technology stocks such as Amazon and Netflix sank, Apple remained relatively buoyant. That was at risk Thursday when the iPhone maker forecast disappointing sales for its fiscal first quarter.
The results are lending support to tech bears who say the group's stretched valuations are unjustified with its growth advantage fading. Firms in the S&P 500 Information Technology index will probably say profits climbed by 19 percent in the third quarter, roughly in line with the market, before the rate eases to half that over two years.
Tech stocks gave up their leadership in October as investors reassessed equity valuations amid rising interest rates. Higher-priced stocks such as Amazon bore the brunt of selling, sending the Nasdaq 100 down 11 percent for the worst month since the 2008 financial crisis.
"Everyone though that Apple is going to be the one that would be immune from the disappointing guidance, but people were wrong," said Ilya Feygin, senior strategist at WallachBeth Capital, said by phone. "We won't see a 10 percent stock correction, but investors will probably use it as an excuse to sell, now that the rally in tech megacaps was ahead of itself. Tech is going to come down a little bit on Apple's results."