Tech Giants Deliver for Stock Market Seeking Spark in News Flood
(Bloomberg) -- The latest batch of tech earnings provided welcome news for a market paralyzed by a jolt of major events this week.
Futures contracts on the tech-heavy Nasdaq 100 Index rose 1% as of 10 a.m. in London, while those on the S&P 500 Index gained 0.7%. The Stoxx Europe 600 Index advanced 0.4%.
The gains signaled a positive day for tech stocks. Apple Inc. rose in premarket after its revenue crushed estimates and Facebook Inc. surged after reporting gains in sales and users. In an address to a joint session of Congress, President Joe Biden declared the U.S. has turned the corner on the pandemic that's killed more than half a million Americans.
Apple Gains as Goldman Upgrades, Analysts Raise PTs: Street Wrap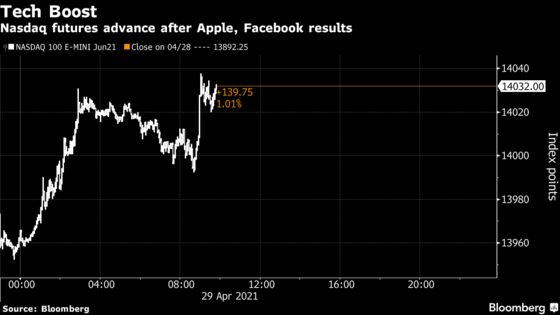 "The strong U.S. tech earnings show that in particular the mega caps are in good shape and over-deliver on expectations," said Ulrich Urbahn, head of multi-asset strategy and research at Berenberg Bank.
The S&P 500 ended Wednesday's cash session little changed while tech stocks declined after the Federal Reserve reiterated its support for the economy, the third straight tepid move for the benchmark index. Investors have kept stocks pinned near all-time highs this week as they digest a slew of major earnings in addition to the Fed decision and moves by the administration.
Stocks today appear to be headed for a rebound following the better-than-expected earnings results, with Apple climbing 3.1% and Facebook surging 7.1% in premarket trading.
Facebook 1Q Impresses, Stock a 'Top Large Cap Pick': Street Wrap
Apple reported fiscal second-quarter sales of $89.6 billion, some $12 billion more than analysts expected, and announced a $90 billion buyback, the second-biggest in history. Facebook's first-quarter sales rose 48%, surging past estimates thanks to strong demand from retailers and other advertisers seeking to grab attention from the social network's billions of users.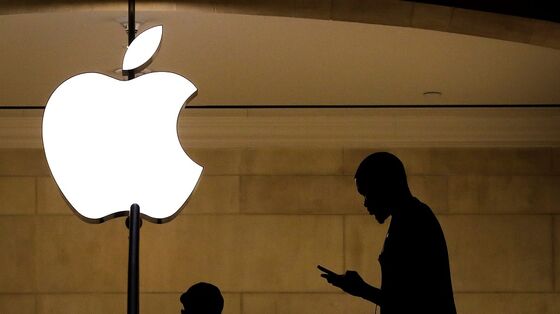 In his evening address, Biden outlined a broad plan for federal spending on infrastructure, education and other Democratic priorities. Earlier Wednesday, the president, in a raft of individual tax proposals, unveiled a sweeping $1.8 trillion plan to expand educational opportunities and child care for families, funded in part by the largest tax increases on wealthy Americans in decades. News last week that he intends to raise the tax on capital gains for wealthy Americans had briefly sent stocks lower.
"The risk sentiment is supported by the Fed's dovish stance at yesterday's policy meeting, as widely expected," Urbahn said. "However, there are now increasing warning signs that suggest limited upside potential for equities in the coming weeks: tax debates, optimistic investor sentiment, ambitious valuations, and a muted equity reaction to positive surprises."