The Lifespan of 15 Millennials Is Now Meaningless to QQQ's Fate
(Bloomberg) -- The longevity of one of the world's largest exchange-traded funds no longer depends on a group of millennials.
The $138 billion Invesco QQQ Trust Series 1, ticker QQQ, changed its rules last week to state that the fund's expiration date will now be tied to the "maturity, redemption, sale or other disposition" of its last security. Previously, the ETF would be terminated on either March 4, 2124, or 20 years after the death of the 15 people born between 1986 and 1996 who were named in the Trust Agreement, according to its prospectus.
Tying QQQ's termination date to its underlying assets effectively extends the fund's lifespan for a "theoretically infinite" amount of time, said Jeffrey Ptak, global director of manager research for Morningstar Inc.
A spokeswoman from Invesco declined to comment.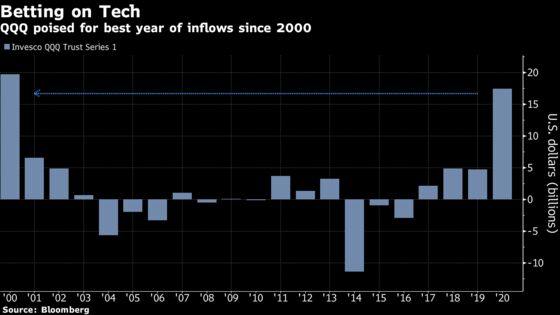 While UITs have advantages -- such as not having to pay a board of directors -- they've mostly been discontinued as the ETF universe grows more complex, according to Bloomberg Intelligence.
"UITs were phased out pretty quickly in favor of the open-end management company, because those could be managed and do things like use derivatives or engage in securities lending," said Eric Balchunas, ETF analyst for BI.
QQQ has rallied about 35% in 2020 and is poised for its best year of inflows in two decades.