Tech Can't Keep Up With the Broad Market as Risk Fears Take Hold
(Bloomberg) -- Technology stocks can't stop the bleeding.
In the past six days, the Nasdaq 100 Index has been beaten by the S&P 500 Index all but once, and the tech-heavy gauge is on track for its biggest two-day underperformance against the big-cap benchmark since March. As of 1:38 p.m. in New York Friday, technology, consumer discretionary, and the new communication services sector were the biggest laggards in the S&P 500. The Philadelphia Stock Exchange Semiconductor Index fell nearly 3 percent percent Friday and is down more than 4.5 percent in the past two days.
"There's an effort to see a rotation," said Tom Plumb, portfolio manager at Plumb Balanced Fund of Madison, Wisconsin. "I wouldn't be surprised if we have pressure for a month or two, but I don't see it being in a bear market."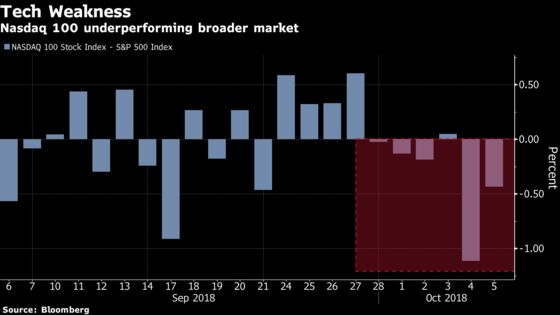 Laser maker IPG Photonics Corp. posted disappointing preliminary earnings Friday, adding fuel to recent bearish calls on Wall Street. The stock was the worst performer in the S&P 500 technology sector, falling as much as 13 percent. The company's mention of tariffs helped send semiconductor shares lower.
Chipmakers with large revenue exposure to China were among the biggest decliners. Xilinx Inc., which got 26 percent of its revenue from China in fiscal 2018, fell 6 percent. Maxim Integrated Products Inc., whose China revenue accounts for 36 percent of sales, fell 4 percent.
The weakness adds to recent pressure as investors reassess risky holdings in the face of rising rates and remaining tensions between the U.S. and China on trade. U.S. tech stocks are also re-coupling with their Asian counterparts, which hit the lowest since July 2017.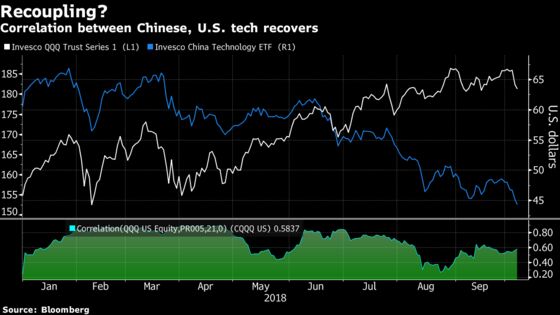 As bond yields rise, investors are dumping the expensive stocks that had been driving the rally. The Nasdaq 100 recently reached technically stretched levels, leaving it prone to a sharp retracing. Throughout the low-volatility era that's dominated the past two years, the index's forward price-to-earnings ratio has been unable to crack 22.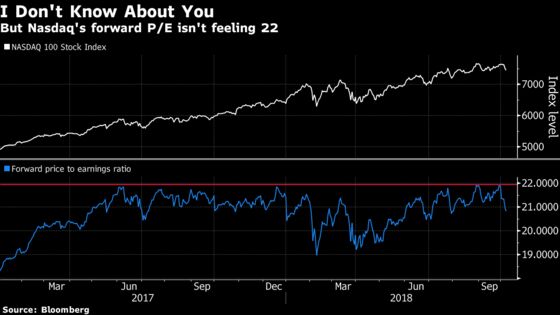 "You are seeing a risk-off reaction to rising bond yields," said Chris Zaccarelli, chief investment officer at Independent Advisor Alliance. "The markets appear worried that higher yields will slow down the economy, and investors are re-assessing how much they want to pay for stocks in a higher interest rate environment."