Tale of Two Economies: IMF Tallies Up Sanctions Wreckage in Iran
(Bloomberg) -- The re-imposition of U.S. sanctions on Iran's oil exports is undoing every assumption the International Monetary Fund had about its economy.
Instead of a growth spurt the IMF anticipated only months ago, it now projects a recession starting in 2018, a deepening fiscal shortfall and inflation more than tripling from last year, according to its regional economic outlook released on Tuesday.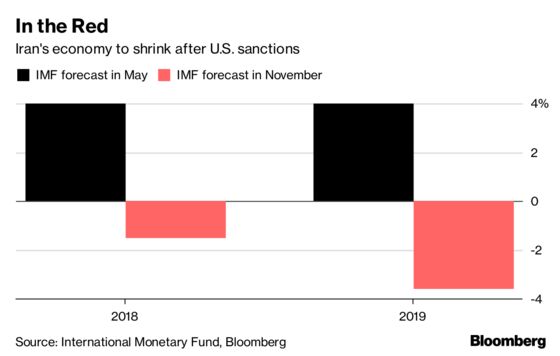 "Sanctions against Iran will undercut its near-term trade and growth prospects, increasing the risk of spillovers," the Washington-based lender said in the report.
Renewed curbs on buying Iranian oil are already rippling through the economy, which has previously survived a decade of sanctions that eased with the 2015 nuclear deal. The national currency, the rial, has lost about 70 percent of its value against the dollar this year as fear of shortages prompted Iranians to hoard foreign exchange and gold.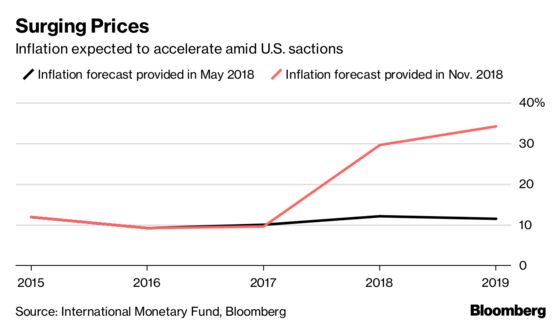 A bout of panic-buying in August, when the first batch of U.S. sanctions came into effect, has also helped push up inflation. Imported supplies account for at least half the goods purchased by middle-class and wealthy households.
Worse may yet be to come. While European governments have vowed to preserve the nuclear agreement and find ways to continue trading with Iran after the Trump administration withdrew from the deal, the IMF predicts the new sanctions will likely cut Iranian oil production and exports "significantly over the next two years at least."
As Iran's energy proceeds plunge, it will require a much higher crude price to balance the budget. The Islamic Republic will need oil to trade at close to $100 a barrel to break even, compared with less than $65 last year, the IMF estimates.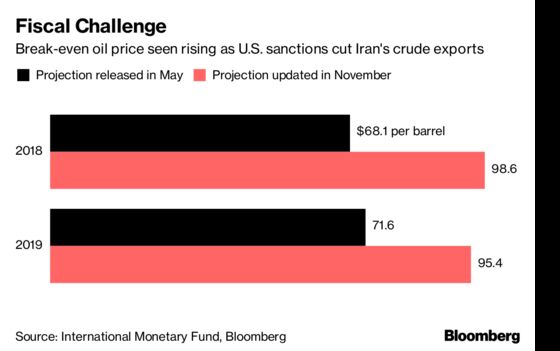 OPEC's third-biggest producer has already seen its oil exports plunge almost 40 percent since April, a month before President Donald Trump pulled the U.S. from the nuclear pact.