Tale of Two Central Banks Casts Aussie-Kiwi Fight Into Spotlight
(Bloomberg) -- The trade pitting the Australian dollar against its New Zealand peer is gaining unexpected prominence.
Both currencies plunged more than 2 percent last week against the dollar as traders speculated that the Reserve Bank of New Zealand would take a dovish turn, just like its Sydney counterpart. Instead, RBNZ Governor Adrian Orr indicated on Wednesday that the central bank would keep rates unchanged through 2020, disappointing those betting on a near-term reduction.
"I see the Aussie moving lower against the kiwi from here -- the action that we saw on Wednesday showed traders quickly covering their shorts after the RBNZ announcement," said Jeffrey Halley, a 30-year market veteran and senior analyst at Oanda Corp. "I'd definitely look to sell that cross when AUD/NZD goes up to about 1.05 levels."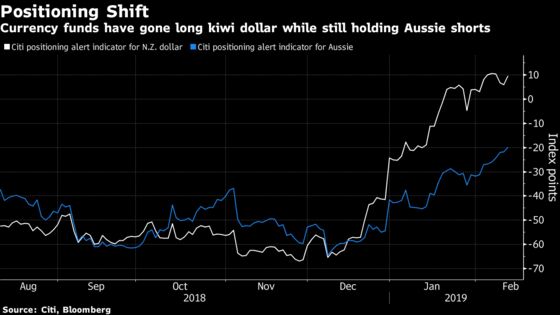 The Aussie dropped as much as 1.3 percent, the most in a month, against the kiwi on Wednesday to 1.0397. New Zealand 10-year bond yields surged more than seven basis points on the day, with the spread over its Australian peer turning positive.
Some strategists suggest investors may want to take the opposite side of the trade. The RBNZ may have defied dovish expectations, but it will still likely ease monetary policy before its Australian counterpart, Australia and New Zealand Banking Group Ltd. strategists including Daniel Been wrote in a note.
"The squeeze in positioning provides a tactical opportunity to buy the AUD/NZD," he wrote, recommending buying the Aussie when it weakens to the 1.04 level. "The trade also provides a good value, lower beta way to trade a more positive risk environment."