Taiwan Stocks Slump Into Bear Market for First Time Since 2015
(Bloomberg) -- Taiwan stocks joined the world's growing list of bear markets Monday, ending a bull run that started in 2015.
The Taiex gauge fell 4.1% to 9,717.77 at the close. It's fallen 20% from a series of 30-year highs last set in January, leaving China the only equities market among the world's 20 largest with an index not in bear territory.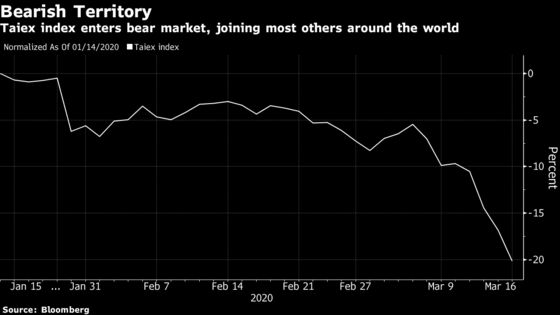 The Taiex briefly traded below the bear market level on Friday in slumping as much as 7.5%, before a big rebound across Asia helped it close down 2.8%. Still, it had its worst week since 2008, falling 11%.
Asian equities fell anew Monday even as the Fed cut its key interest rate by a full percentage point and said it will boost its bond holdings by at least $700 billion. Investors are also awaiting Thursday's quarterly policy meeting of Taiwan's central bank.
Foreigners looking to raise cash have been offloading local equities recently. On March 9, net sales reached a level not seen since 2007's record, reaching $1.8 billion. The total last week was $5 billion, versus the $9.4 billion of net purchases made all of last year.