Taiwan Independence Supporters Protest in Warning to Tsai
(Bloomberg) -- President Tsai Ing-wen is coming under increased pressure from her allies at home to push harder for Taiwan's formal independence even as China keeps up its unrelenting campaign to bring the island under its control.
Thousands of people gathered outside the headquarters of Tsai's Democratic Progressive Party in Taipei Saturday. Unhappy with the president's moderate stance on Taiwan's international status, their main demand is for a change to the referendum law to allow the public to vote on Taiwan's independence. Topics relating to Taiwan's name, national symbols and constitution are barred under the current law.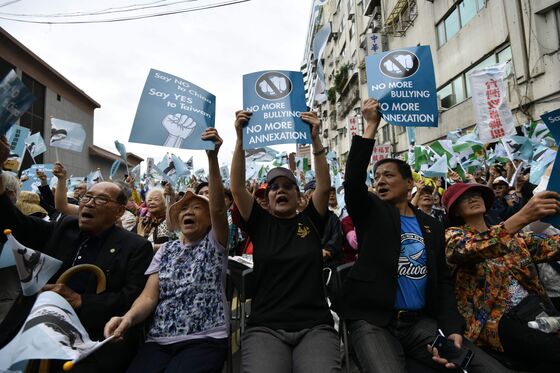 Since coming into power in 2016, Tsai has refused to endorse the notion that Taiwan is part of China, vowing instead to maintain the status quo across the Taiwan Strait. In response, Beijing has cut off all contact with her administration and gradually chipped away at manifestations of Taiwan's statehood. It's persuaded the island's few remaining diplomatic allies to reduce ties and pressured multinational companies to explicitly refer to Taiwan as a part of China.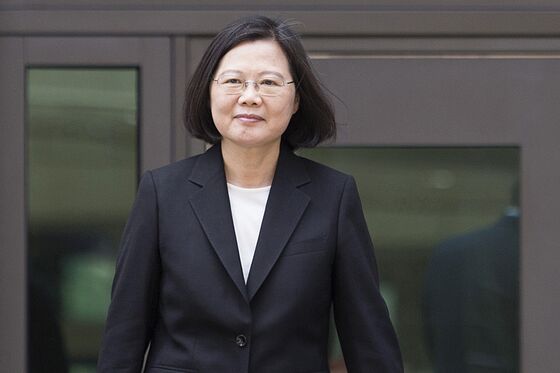 While Tsai's cautious approach to ties with Beijing has won support from the U.S., many in Taiwan, including many in her own party, are impatient for progress in translating the island's functional independence into de jure statehood. China has tolerated Taiwan's autonomy -- and U.S. arms sales to the island -- so long as both sides respect there is only "one China."
The organizers of Saturday's protest point to the fact that after decades of control by the China-friendly Kuomintang, the DPP controls the presidency and the legislature for the first time in the party's history, giving it unprecedented authority to determine Taiwan's future.
"By conducting a referendum, we'll let those countries that value freedom and democracy hear our voices and support Taiwan," Wu Li-pei, one of the senior advisers to the president, said on the event stage. "It would be best if we could become independent in our generation. If we can't, we will pass on the task to our children and children's children."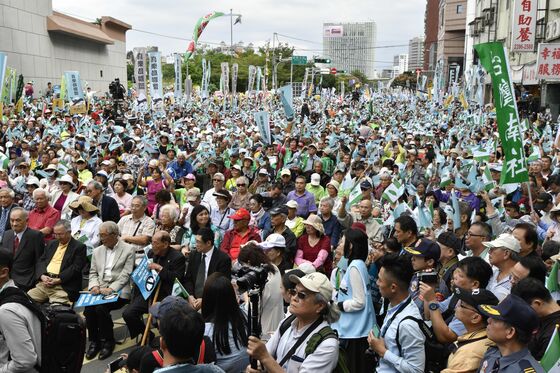 "Let's keep encouraging President Tsai, talking to her and pushing her to allow the right to the referendum," said Wu.
The organizer Formosa Alliance claims there were more than 120,000 people attending the event, while the United Daily News reported about 30,000 people turned up. The Taipei City Police Department doesn't conduct counting.