Taiwan Eases Up on Currency Intervention, Aided by Rising Dollar
(Bloomberg) -- Follow Bloomberg on LINE messenger for all the business news and analysis you need.
The rebounding greenback and weakness in global tech shares are curbing demand for Taiwan's currency, reducing pressure on the central bank to act to slow appreciation.
For months, it's been an almost daily affair for the Taiwan dollar to jump more than 1% intraday, or even close to 2% in some instances, only to end the session nearly flat. In the past week or so, that pattern has vanished as traders refrained from pushing the local currency much stronger.
That's good news for the central bank. Taiwan's net foreign-exchange purchases amounted to 5.8% of gross domestic product in 2020 as officials sought to restrain the speed of the currency's ascent. The fading strength will give the monetary authority some breathing room at its policy meeting on Thursday, with all economists in a Bloomberg survey predicting the benchmark rate will stay unchanged at 1.125%.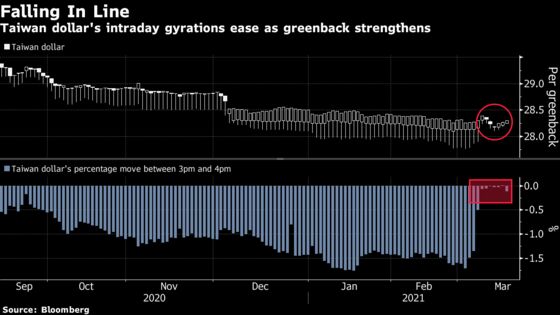 Less meddling may also deflect against potential criticism from the U.S. Treasury when it releases its report on economies that should be designated as currency manipulators next month.
Governor Yang Chin-long downplayed concern over the manipulator tag last week, saying Switzerland, Singapore and Hong Kong also intervene in their respective foreign-exchange markets.
"Ahead of the U.S. Treasury report in April, the central bank will likely reduce currency intervention, allowing the Taiwan dollar to rise slightly," said Liu Chengyu, an economist at First Capital Management Inc. in Taipei.
The Taiwan dollar climbed about 6% last year in one of Asia's best performances. It's little changed in 2021 with the central bank keeping the currency from strengthening past 28 per greenback on a closing basis. The central bank reduced dollar buying last month as the U.S. currency strengthened, foreign-exchange reserve data show.
Outflows from Taiwan's equity market are increasing. Foreign investors have pulled almost $3 billion from local stocks this month, near the most since May, as the market sagged. Back in November, net inflows reached $6.2 billion, the largest in 15 years. Taiwan Semiconductor Manufacturing Co. has fallen almost 10% from its January record, wiping out $68 billion of value.
"The broad dollar theme is likely to continue into the second quarter, which will help the central bank ease up on intervention," said Stephen Chiu, Asia FX and rates strategist at Bloomberg Intelligence. "Intervention may return later though once dollar weakness returns as after all, Taiwan's macro position remains resilient compared with global peers."