Pan American Agrees to Buy Silver Miner for $1.1 Billion
(Bloomberg) -- Pan American Silver Corp. agreed to buy Tahoe Resources Inc. for at least $1.07 billion in a cash and stock deal, sending the shares in the embattled precious-metals mining company soaring.
Reno, Nevada-based Tahoe climbed as much as 49 percent, from a record low on Tuesday. The company has been struggling in the past year as silver declined and its efforts to restart its flagship Escobal silver mine in Guatemala dragged on amid a dispute over indigenous rights.
The Pan American purchase agreement offers Tahoe shareholders a combination of cash and stock as well as "contingent value rights," which would kick in following the restart of Escobal, according to a joint statement from the companies Wednesday. The purchase price without the contingent rights represents about a 35 percent premium to Tahoe's volume-weighted average price for the 20 days through Nov. 13, the companies said.
The deal, which would create one of the world's largest silver producers, comes as declining prices for the metal have helped erode miners' shares. On Wednesday, silver dropped below $14 an ounce to trade near its lowest since 2009, as a strong dollar and rising U.S. interest rates dent its appeal.
"Where the market sits right now it's the right time to do deals," Pan American Chief Executive Officer Michael Steinmann said during a conference call to discuss the agreement. Talks between the companies had been on and off again for some time, he said. "I was always interested in the Escobal asset."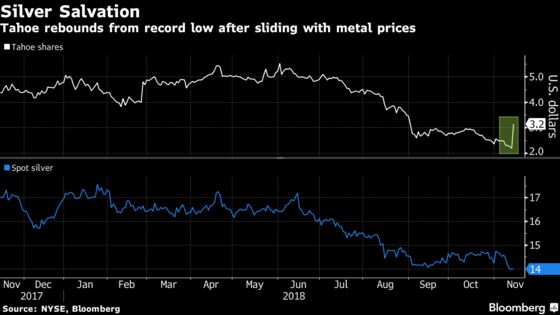 The agreement immediately drew criticism from one analyst on the conference call, given Tahoe's weakened share price.
"Why did you choose to sell out now?" John Tumazos, founder of John Tumazos Very Independent Research, asked Tahoe management during the call. "Why not hold out for six or 12 months for a better moment or a better option?"
Read More: Tahoe takeover comes under fire during investor call
Tahoe's chairman acknowledged the concern on the call.
"We know that there would be questions as to why we would sell at what looks like an all-time low, and this was a big concern of ours, of course, and the board and the special committee," Kevin McArthur said. However the company believes the combined company will be in a better position to work toward a restart of Tahoe's flagship mine in Guatemala.
Tahoe has been beset with troubles at the Escobal mine. In 2017, the country's Supreme Court suspended the miner's operating license amid a dispute over whether an indigenous population was properly consulted before Tahoe's subsidiary was granted permits for the site.
The license will remain suspended until the Ministry of Energy and Mines completes consultation with the Xinka communities, the company said in September. Pre-consultation could take as long as 18 months, and the actual process could take longer, Quelvin Jimenez, a Xinka representative and a resident of one of the communities impacted by the project, said Wednesday by phone.
Water sources have been drying up since the project started in 2014 and local communities have been impacted by the construction of new roads and vibration from the mine's operations, he said. Communities have also detected high arsenic levels in the water in the area surrounding the mine.
'Pressuring and Manipulating'
"There definitely hasn't been any attempt by the company to mitigate the impact on the environment," Jimenez said. "Lately we have seen a shift in their strategy; they're pressuring and manipulating leaders and individuals, trying to give a false impression at an international level."
Tahoe was up 44 percent at $3.17 as of 10:47 a.m. in New York, a day after closing at an all-time low of $2.20. Pan American Silver fell 11 percent to $12.57, increasing its decline this year to 19 percent.
There are non-core assets on both sides which will need to be sorted, Steinmann said on the call, but there is no "time pressure" to sell them and nothing has been decided yet. "We will be very opportunistic with these sales."