T. Rowe Urges Being 'Early' for Emerging Debt's Coming Recovery
(Bloomberg) -- Emerging-market debt has tumbled so far, so fast, that valuations in places including Russia, Brazil and Indonesia are now "too good to ignore," according to T. Rowe Price Associates.
"It pays to be early," Michael Conelius, who manages emerging-market debt at T. Rowe in Baltimore, told clients in a note on Monday. The recent pandemic-fueled plunge represents "indiscriminate selling."
The firm upgraded its outlook in hopes of a quick rebound following the worst of the impact from the virus on emerging markets. Hard-currency bonds in particular have potential, even if investors are unsure whether prices have already reached bottom, he wrote.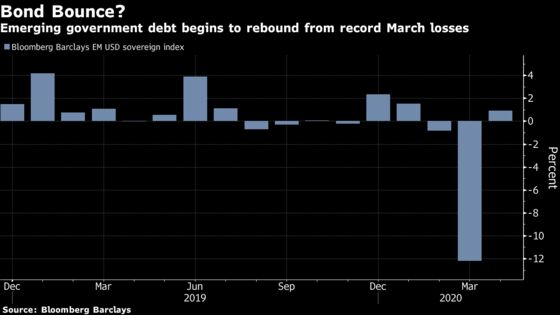 Fiscal and monetary stimulus measures are starting to soak into the global economy, while the International Monetary Fund offers support and China shows signs of stabilization, he wrote. A Bloomberg Barclays index of dollar-denominated government debt from the developing world edged up in April after the worst month since 2008.
"Yields have reached levels that should compensate investors for further near‑term price swings while potentially delivering strong returns when the outbreak eases and markets recover," according to Conelius.
Among the best opportunities are bonds from nations with stable fundamentals that were pounded by selling in passive exchange‑traded funds, he said. Some BB and BBB-rated sovereign notes from Russia, Brazil and Indonesia could bounce back given "relatively healthy balance sheets and stable domestic politics that have still suffered sharp price declines as investors have shed risk."
Conelius also like frontier markets such as Ukraine, which has backing from the IMF and could offer a profitable rebound over time.