Swiss Deadlock With EU Threatens Its Stock Market
(Bloomberg) -- Switzerland must decide whether to implement a contingency plan to protect its stock market as the prospect looms of its exchanges losing recognition under European Union rules.
The temporary equivalence granted to Swiss stock exchanges under the EU's MiFID II regulations expires at the end of December, with no assurances yet from Brussels that it will be extended. The Swiss government has set itself a Dec. 1 deadline for putting into force a countermeasure, as the U.K.'s Brexit negotiations create a febrile atmosphere that leaves the EU in no mood to grant concessions. Bern may make an announcement on Friday.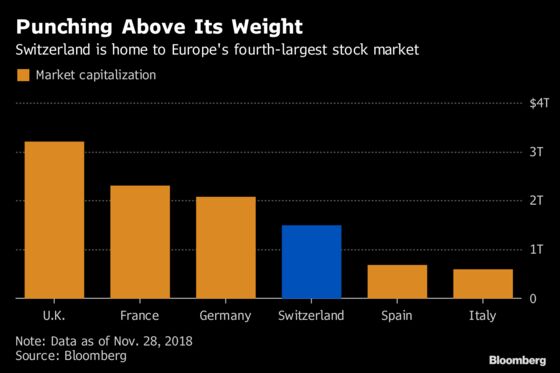 Swiss bourses will lose access to cross-border trading with the 28-nation bloc if equivalence is not extended. While Bern has a contingency plan to redirect dealing back to Switzerland by prohibiting Swiss shares from being traded in the EU, there's no guarantee that Brussels would recognize it.
About a third of trading in Swiss shares currently takes place within the EU and the rest in Switzerland, Romeo Lacher, chairman of SIX Swiss Exchange AG, said earlier this year. And the majority of the activity in Swiss shares on SIX comes from traders in the EU, giving an idea of what the company has to lose.
Bern's big problem is that the EU has linked stock market equivalence with the successful completion of a so-called framework agreement to replace the 120 bilateral accords that govern relations between Bern and Brussels. Those negotiations are gridlocked as the EU opposes Swiss cantonal bank guarantees and policies protecting higher wage levels in Switzerland.
As of Nov. 27, there hadn't been sufficient progress in the framework deal talks to justify extending stock-market equivalence, according to the EU's top financial regulator.
The Swiss have accused the bloc of using the stock market as a political pawn, but the government is also conscious that it faces opposition to the framework deal from parties on both the right and left. Further brinkmanship is likely as some Swiss politicians calculate that opposition both at home and abroad will be less vociferous once Brexit is out of the spotlight.
| | |
| --- | --- |
| Current system: | EU-based traders may buy and sell Swiss stocks on Swiss exchanges |
| If equivalence expires: | EU could forbid traders to access the Swiss exchange, causing a major decline in trading volumes for SIX |
| Bern's countermeasure (to be enacted only if the EU doesn't at least commit to extending equivalence): | EU-based traders could be prohibited from trading Swiss shares within the EU, which would re-route volumes back to Switzerland |