In Land of Discretion, No Jail for Swiss Insider Trading
(Bloomberg) -- A dispute inside the policing arm of the Swiss Stock Exchange has put an awkward spotlight on how suspected insider-trading cases are handled in Switzerland.
The rift emerged between the head of regulation at the Zurich exchange and two deputies who have since left, including one who now says a lack of resources means "many insiders trade with impunity." His former boss sued him for defamation, noting that the bourse complies with its legal obligations to report all suspected cases to prosecutors.
Still, the matter struck a nerve in the country's $1.6 trillion equity market, where convictions for insider trading are rare. Even when authorities nab cheaters, punishments are lax. Since a 2013 overhaul of insider-trading statutes, only 10 people have been convicted of market abuse -- eight by summary penalty order and two by trial, government data show. Nobody went to prison, and one fine was little more than the price of a yearly rail pass.
"There just isn't the enforcement culture that exists elsewhere," said Kern Alexander, the chair of law and finance at the University of Zurich.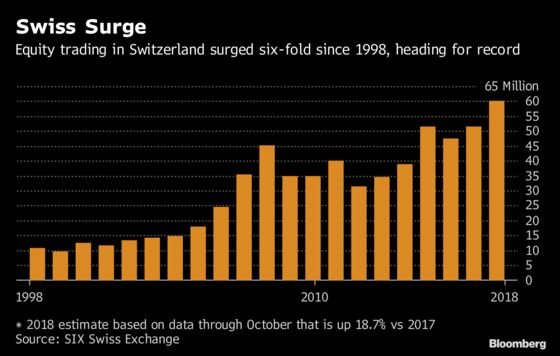 Insider trading wasn't a crime in Switzerland until 1988. At the time, the country was under pressure from American authorities investigating their own cases and demanding more information about transactions made through notoriously secretive Swiss banks. Once the insider-trading law was enacted, the banks were able cooperate.
For more than two decades, local Swiss cantons handled prosecutions. That changed five years ago amid growing concern that insider trading was becoming a bigger problem. Federal authorities took over the responsibility, working with the country's finance regulator, Finma, and the stock exchange, which flags suspicious activity.
Yet domestic critics say enforcement is still too lenient in a country that has become dependent on its outsize financial industry.
While Switzerland has just 8.4 million people -- smaller than the city of Chicago -- its stock market handles about $6 billion worth of trades a day. The Alpine nation's banks are also known around the world. More than $1.8 trillion of foreign assets are held in Switzerland, which is also home to global blue-chip stocks like Nestle SA, Roche Holding AG and UBS Group AG.
"No one wants to kill the goose that lays the golden egg," said Alexander, an American who moved to Switzerland seven years ago.
Last year, Finma investigated 88 cases of suspected insider trading and 18 of market manipulation. Six of those resulted in sanctions, but the regulator doesn't have much of a stick: wrongdoers can face industry bans or orders to repay illicit profits, but not fines, and they usually escape being named. That's part of a Swiss tradition of discretion that often affords anonymity even to the guilty, in stark contrast to the U.S.
On Wall Street, federal prosecutors have secured 45 convictions or guilty pleas since 2013 with an average prison term of two and a half years. In August, New York Congressman Christopher Collins and his son were indicted for insider trading related to shares of an Australian biotechnology firm. In the U.K., the Financial Conduct Authority in May capped its biggest-ever such probe into former Deutsche Bank AG broker Martyn Dodgson, who is serving a 4 1/2-year sentence.
In a statement, Finma said it "examines and monitors all cases" that are brought to its attention. And the regulator says that new rules allow it to automatically identify the beneficial owner of a company making a trade, data that previously had to be requested from dealers.
"So, almost at the push of a button, we can then analyze suspected cases -- bad news for those who don't want to play by the rules," Finma Chief Executive Officer Mark Branson said in a speech last year.
While Finma reported 88 cases, SIX, which operates the Swiss Stock Exchange, identified 367 cases in 2017 that were suspicious enough to warrant a preliminary investigation and were referred to Finma. The year before, it was 379.
Until December 2017, the top enforcer at the exchange was Jared Bibler, who had taken the job after investigating the collapse of Iceland's banks. But after nine months on the job, Bibler was fired. By August 2018, Bibler's deputy, Lukas Feh, was also gone, an exchange spokesman confirmed.
On Sept. 18, Zurich blogger Lukas Haessig published an article saying both men were summoned and given the choice of resigning or being fired. Bibler refused to resign, and Feh opted to do so, Haessig wrote. A spokesman for the exchange declined to say why Bibler left, but said Feh quit to take on a new challenge. Feh declined to comment when contacted by Bloomberg.
Haessig wrote that Bibler's desire for more aggressive investigations were at odds with his boss, Corinne Riguzzi, who made other allegations to force him out, Haessig wrote. On Oct. 2, Riguzzi sued Haessig, Bibler and Feh for defamation.
"The accusations in the article and the comments below it are completely untrue and invented," Matthias Schwaibold, Riguzzi's lawyer, said in the lawsuit. "They depict the complainant in a crooked light, and paint an unfavorable picture of her professionally, but above all in terms of character."
The case is in the stage of conciliation proceedings before a justice of the peace. If those talks fail, the lawsuit will advance. Haessig said he is in discussions with Riguzzi to make changes to the story so that it can remain online, declining to give specifics.
In a statement, Bibler acknowledged he was frustrated in his job, but declined to elaborate or comment on the lawsuit.
"During my short time at SIX, I worked with teams at both SIX and Finma, true professionals who dedicate each day to uncovering and investigating insider trades," Bibler said. "However, the resources allocated to these teams were not commensurate with the volume or magnitude of ongoing insider activity on the market. Unfortunately, many insiders trade with impunity in Switzerland."
Riguzzi, in a statement, said SIX reports all suspected insider trading to Finma, as required by law. New rules on reporting "off exchange" transactions has added to the volume of data that has to be examined, but SIX is experienced in handling that, she said.
"There has never been a case that hasn't been reported due to a lack of resources," Riguzzi said. A spokesman for SIX said both Feh and Bibler have been replaced with highly-qualified persons and "surveillance continues to be ensured."
And since the new code allows prison sentences up to five years if illicit profit exceeds 1 million Swiss francs ($1 million), it's important to ask why the sanction is not being applied, said Daniel Zuberbuehler, a former vice-president of Finma.
"Prison sentences should be handed down" for insider trading, Zuberbuehler said. "Why are they not? Above all, that's a question for the judges."
A spokeswoman for the Swiss Federal Criminal Court declined to comment. The Swiss Attorney-General's Office cited the 10 convictions, but declined to provide further comment.
Switzerland isn't alone in Europe when it comes to its softer touch. Until recently, insider trading in France was purely a civil matter, not criminal. In Germany, insider trading only become a crime in 1994 and criminal convictions remain rare.
But as infrequent as prosecutions are in Switzerland, the fact that they've become more public in the past decade has helped to change attitudes about insider trading, "and people realize it's betraying the market," said Christian Leuenberger, a criminal lawyer at Pestalozzi in Zurich.
The two cases that went to trial recouped the illicit profits, as well as the men's names coming out:
Hans Ziegler was ordered in June 2017 to repay 1.4 million francs in illicit profit he made as a board member at multiple companies. That decision was upheld earlier this year. Ziegler's lawyer, Patrick O'Neill, did not return a message seeking comment on whether he'd appeal to the Swiss Supreme Court.
In August 2018, former KPMG auditor Daniel Senn was ordered to repay 29,000 francs he made from his illegal insider trades and fined 5,000 francs. It's not clear whether Senn will appeal. Attempts to reach him were unsuccessful.
Swiss Attorney-General Michael Lauber is hiring good prosecutors, but there are just too many international fraud cases, Leuenberger said. Federal prosecutors have about 20 market abuse cases in addition to ongoing probes into corruption at Fifa, 1MDB and Petrobras.
"If they had more people, they could tackle more prosecutions," he said.