Swiss Bank Without Loss in 150 Years Struggles in Germany
(Bloomberg) -- (Machine translation provided by Google and reviewed by Bloomberg editors.)
In the 150 years of its existence, St. Galler Kantonalbank AG never made a loss. By 2020, the bank also wants to break even at its German subsidiary, later than originally planned, according to CEO Roland Ledergerber.
St.Galler Kantonalbank Deutschland AG is supposed to rely entirely on wealth management for wealthy private clients, foundations and SMEs in order to achieve its targets. Other services are mostly not offered. "Entering into riskier real estate or business financing is nothing we think about," Ledergerber said in an interview with Bloomberg. In its home market, however, the Kantonalbank offers such services.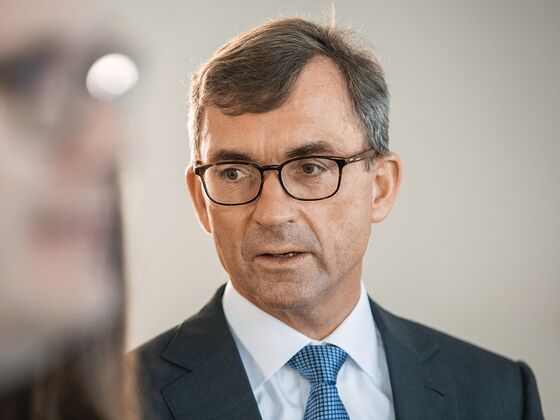 When looking for customers in Germany, Ledergerber sees the state guarantee that his bank has as an advantage. The Canton of St. Gallen, that owns 55 percent of the bank, is accountable for all liabilities of the parent company, for instance money from customers. This unlimited state guarantee does not apply for the German division. "But its customers can choose to keep their assets at the parent company in Switzerland," Ledergerber said.
SGKB Deutschland currently serves about 1100 customers. Together, the parent and the subsidiary manage 4.3 billion Swiss francs of people living in Germany, of which 1.6 billion francs are accounted for at the German division. Most customers pay an "all-in fee". The German offshoot, based in Munich, was founded in 2009.
4.3 million francs loss in Germany, Portugal
In its annual report for 2017, SGKB reported a loss of 4.3 million francs for its German subsidiary and a branch in Lisbon. Compared to 2016, when the loss stood at 5.7 million francs, the shortfall was reduced by about a quarter.
Group-wide, profit for 2017 rose 6.8 percent to 156 million francs. One of the most important events of the last year was the takeover of the private banking business of M.M.Warburg Bank Schweiz AG.
In addition to the headquarters in Munich, SGKB Deutschland also operates a branch in Frankfurt. The good labor market situation has spoken in favor of the second location, Ledergerber said: "Here we could find many qualified people." Two teams have been recruited, one of them from Merck Finck Privatbankiers AG, he said.
Staff costs in Germany lower than in Switzerland
In general, staff costs in Germany are slightly lower than those in Switzerland, but finding good employees is not easy in either country, Ledergerber said. "That was especially true for our German subsidiary after its start, because we were not so well known back then." Meanwhile, that has changed, there are many unsolicited applications, he added.
In total, the bank now has 53 employees in Germany, including 22 advisers. "We feel comfortable with this number," Ledergerber said. "That does not mean that we are not open to new hires should good opportunities arise."
Original Story:
Schweizer Bank ohne Verlust in 150 Jahren kämpft in Deutschland
Reporter on the original story: Stephan Kahl in New York at skahl@bloomberg.net
Editors responsible for the original story: Erhard Krasny at ekrasny@bloomberg.net, Stephan Kahl