Swedish Chainsaw Massacre Hits Husqvarna
(Bloomberg) -- Husqvarna AB sank the most in its 12 years on Sweden's stock exchange after the maker of lawnmowers and chainsaws reported earnings that fell far short of market expectations.
The stock dropped as much as 18 percent, with the decline pushing it to the bottom of the Stoxx 600 Europe index on Tuesday. Husqvarna said operating profit fell 3.8 percent in the second quarter to 1.93 billion kronor ($219 million), missing even the lowest analyst estimate.
The company blamed its Consumer Brands Division for the decline. The unit suffered a loss after it was "mainly burdened by raw material cost inflation and a continued challenging U.S. retail market environment," it said. Management is now planning to restructure the division, which accounted for about a fifth of sales in the quarter.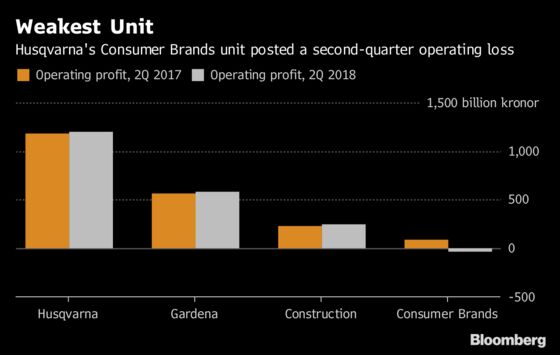 Husqvarna says it now wants to "increase focus and efforts" on what it's describing as its "future premium product and service offerings under the core brands of Husqvarna and Gardena." The company also said that "decisive steps" are being taken "to resolve the underperforming Consumer Brands Division."
"The presence in certain consumer segments will be exited," it said. "As a consequence of the future direction, the Consumer Brands division will be dissolved into the Husqvarna and Gardena divisions."
The company will gradually exit from segments and brands in which prices are lower, such as petrol-powered walk-behind lawnmowers and garden tractors.
The North American operations of the Consumer Brands Division will be folded into the Husqvarna unit while the European and Asian operations will be absorbed by the Gardena division, it said. According to DNB, that means the company is exiting only 25 percent of Consumer Brands while moving the remaining 75 percent to Husqvarna and Gardena.
"The step to walk away from unprofitable consumer brands business is the right way to go, but we hoped for a larger exit and not a gradual phase-out which could result in sizable restructuring costs and might also burden profitability," DNB, which has a buy rating on Husqvarna, said in a note.
Husqvarna said the extent of the exits and associated adjustments to the manufacturing footprint and brand portfolio are now being reviewed, with changes to be realized in two steps as customer commitments for the 2019 season are honored. While the net sales impact for 2019 is estimated at close to 2 billion kronor, it will have "a favorable impact" on the group's operating margin.