Swedish CEO Sounds Alarm on 'Excessive' Stock Market Valuations
A rally of more than 30% in the Swedish equities market this year has sparked concern at the top of one of the country's most active investment companies.
The chief executive officer of Bure Equity AB, with a market capitalization of about $3.5 billion, said that the steep gains raise questions "over whether the stock market has become excessively overvalued."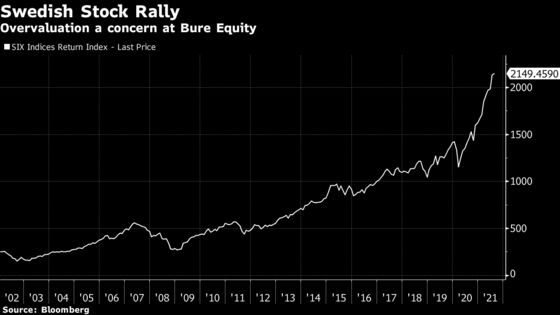 Henrik Blomquist, writing as part of Bure's interim report, says the blame lies with extensive economic support measures that are causing "the prices of many assets to increase sharply."
The comments come at a time when Bure and its Swedish competitors, such as Kinnevik AB and Investor AB, have seen billions wiped off their combined market capitalizations amid analyst concern over inflated net asset value premiums.
Bure, which holds stakes in listed companies including Cavotec SA, Mycronic AB and Vitrolife AB, reported a net asset value of 323.80 Swedish kronor ($36.94) per share as of Aug. 18. Shares fell as much as 3.7% on Thursday, and traded at 402.20 kronor as of 9:38 a.m. in Stockholm.   
Read More: Swedish Investment Companies Fall Amid Concern Over NAV Premiums