Survey the Damage and Decide What to Do Next: Taking Stock
(Bloomberg) -- There was a sense of capitulation in global markets yesterday, with all European sectors in the red and the DAX entering a bear market. The Stoxx Europe 600 sunk 3.1%, its worst drop since the Brexit vote in June 2016. And yet today, Euro Stoxx futures are bouncing 1.6% ahead of the European open. How to handle the whipsaw?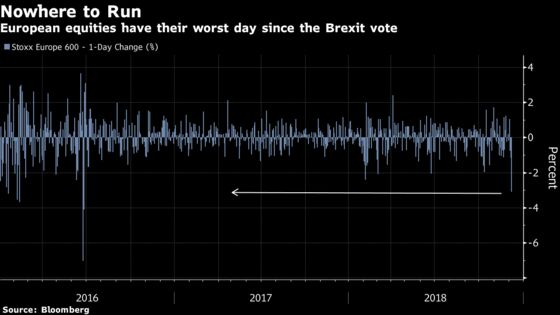 The most affected sectors yesterday were naturally trade-sensitive segments of the economy like autos, but also financials. We focused on banks in Taking Stock yesterday and it seems their race to the bottom is far from over. Insurance, which is sensitive to global market returns, was also heavily penalized. Oil companies had an additional worry as OPEC couldn't reach an agreement on production cuts, sending oil prices to plummet more than 5 percent. Defensives outperformed but the sell-off was broad-based.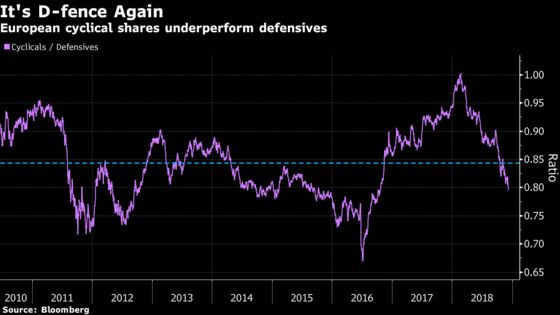 So what's the picture now in term of fundamentals? The valuation of European equities keeps dropping to new lows, with the price-to-earnings forecast now standing at 12.2 times, a level last seen in July 2013.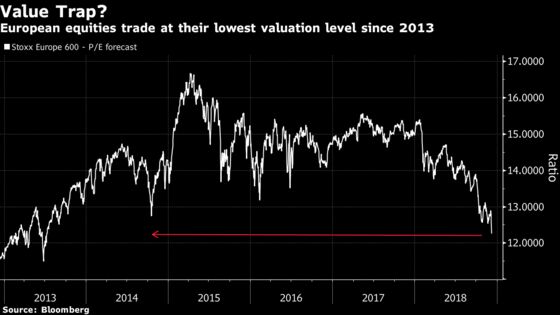 The picture for individual industries is not any rosier, with battered sectors such as autos, basic resources and financials trading at extremely depressed levels.
| | | | |
| --- | --- | --- | --- |
| European Sectors | BEst P/E | European Sectors | BEst P/E |
| Autos & parts | 6.4 | Financial services | 15.1 |
| Basic resources | 8.6 | Media | 15.3 |
| Banks | 9.0 | Chemicals | 15.3 |
| Insurance | 10.2 | Industrials | 15.6 |
| Oil & gas | 11.4 | Real Estate | 15.8 |
| Travel & leisure | 12.7 | Personal goods | 15.9 |
| Stoxx Europe 600 | 13.2 | Healthcare | 16.4 |
| Utilities | 14.1 | Retail | 17.0 |
| Construction | 14.1 | Technology | 19.7 |
| Telecoms | 14.6 | Food & beverages | 20.5 |
At this point, a lot of the bad macro news may already be priced in. U.S. payrolls will be published later today and will give some insight on the outlook for interest rates. Investors will pray for "good, but not great" figures as Oanda senior market analyst Craig Erlam says, to avoid further hikes.
Buying this dip has become increasingly tempting, though it's difficult to assess the potential downside from here, as the accumulation of clouds over an already shaky market buried any optimism about an improvement for equities. The problem in Europe is that there's always a risk event right around the corner. This time it's the U.K. Parliament vote on the Brexit deal. Given yesterday's drop was the worst since the people's vote in 2016, it seems wise to wait and see what will happen on Dec. 11, if the vote is not delayed.
"Today's U.S. jobs report could have a big part to play in this. Usually we look at these releases and want to see the best possible numbers – for obvious reasons – but given the fragility in the markets, I wonder whether the goldilocks report for the current environment involves decent – but not great – jobs growth and only moderate wage gains," Craig Erlam, senior market analysts at Oanda, writes in a note. "This would give the Fed and investors encouragement that the economy is ticking along nicely and allow it to take the foot off the gas a little, potentially taking some pressure of the middle part of the yield curve and easing investor concerns."
Renault is aiming to reach in about a week the first conclusions of an internal probe into whether the pay packages of Carlos Ghosn, along with the French carmaker's other top managers, were properly disclosed to shareholders, according to people familiar with the matter.
Ghosn Is Said to Be Indicted in Japan as Soon as Monday
Danske Loses a Titan of Banking as a Civil Servant Enters Scene
Danske Bank Confirms Talks to Sell Sweden Pension Activities
Polaris in Talks With Danske Over Swedish Pension Unit: Borsen
Knorr-Bremse Buys Vehicle Steering Systems Ops of Hitachi
Air France-KLM to Keep Joon Brand But It Will Evolve: Echos
Carl Zeiss Meditec Full Year Ebit Beats Highest Estimate
Q-Linea IPO Price SEK68, Trading Starts Today in Stockholm
DNB Won't Re-Assess ING Mgmt After Money-Laundering Fine: FD
AstraZeneca, Abbott in Diabetes Drug Distribution Pact for India
Volvo's U.S. Truck Outlook May Have Been Too Cautious, CEO Says
Fresenius Medical Sees 2019 Rev., Net Growth About 2018 Levels
Fresenius Doesn't See Meeting 2020 Group Targets
Volkswagen Sees Brazilian Market Growing Near 10% in 2019
U.S. Probing Huawei on HSBC Use in Alleged Iran Deals: Reuters
Sabadell to Merge or Sell TSB When Profitable: Expansion
Telefonica's U.K. O2 4G Network Restored; to Probe Outage with Ericcson
NOTES FROM THE SELL SIDE:
Jefferies raised Akzo Nobel to buy from hold, citing a strong balance sheet, easing raw-material pressures and co.'s restructuring efforts creating ballast if industrial markets soften in 2H19 or 2020. Recent shift in commodity-price trends could translate into a 100-150bps tailwind for margins relative to broker's initial estimates for 2019-2020, offsetting any softness in cyclical end-markets.
Jefferies said IP Group is likely to face a lack of market interest when seeking new funding, and cut the investor in intellectual property to underperform from hold (PT to 95p from 119p); an equity increase is seen likely in 2019 or early 2020.
TECHNICAL OUTLOOK for Stoxx 600 index:
Resistance at 353.1 (50% Fibo); 365.1 (38.2% Fibo)
Support at 342.5 (Trend channel); 341.2 (61%.8 Fibo)
RSI: 30.7
TECHNICAL OUTLOOK for Euro Stoxx 50 index:
Resistance at 3,072 (61.8% Fibo); 3,193.5 (50% Fibo)
Support at 2,921 (76.4% Fibo); 2,678 (100% Fibo)
RSI: 31.7
MAIN RESEARCH AND RATING CHANGES:
UPGRADES:
Akzo Nobel upgraded to buy at Jefferies; PT 86 Euros
Amer Sports upgraded to accumulate at Inderes; PT 40 Euros
KPN upgraded to outperform at Credit Suisse; PT 3.10 Euros
Rotork upgraded to neutral at Credit Suisse; PT 2.50 Pounds
Schindler upgraded to overweight at Barclays; PT 220 Francs
Atlas Copco cut to equal-weight at Barclays; PT 220 Kronor
BMW downgraded to reduce at Commerzbank; PT 70 Euros
Brenntag downgraded to hold at Jefferies; PT 42 Euros
Centamin downgraded to hold at Berenberg
Elior Group downgraded to reduce at AlphaValue
IP Group downgraded to underperform at Jefferies; PT 95 Pence
Scatec Solar downgraded to neutral at SpareBank; PT 73 Kroner
2G Energy rated new buy at Pareto Securities; PT 24 Euros
Aixtron rated new buy at Pareto Securities; PT 15 Euros
BB Biotech rated new buy at Pareto Securities; PT 83 Francs
Base Resources rated new buy at Berenberg
Biotest rated new hold at Pareto Securities; PT 23.40 Euros
Bollore rated new hold at SocGen; PT 4 Euros
Epigenomics rated new buy at Pareto Securities; PT 3.90 Euros
Gigaset rated new buy at Pareto Securities; PT 58 Cents
Heidelberg Pharma rated new buy at Pareto Securities
Kenmare rated new buy at Berenberg
Manz rated new buy at Pareto Securities; PT 35 Euros
OHB SE rated new buy at Pareto Securities; PT 43 Euros
Pfeiffer Vacuum rated new buy at Pareto Securities; PT 162 Euros
Progress-Werk Oberkirch rated new buy at Pareto Securities
S&T rated new buy at Pareto Securities; PT 27 Euros
SMT Scharf rated new hold at Pareto Securities; PT 14 Euros
Siegfried rated new hold at Pareto Securities; PT 378 Francs
VR Education Holdings rated new outperform at Davy
Viscom rated new buy at Pareto Securities; PT 22 Euros
va-Q-tec rated new buy at Pareto Securities; PT 12 Euros
MSCI Asia Pacific down 1.7%, Nikkei 225 up 0.8%
S&P 500 down 0.2%, Dow down 0.3%, Nasdaq up 0.4%
Euro down 0.05% at $1.1368
Dollar Index up 0.05% at 96.86
Yen down 0.13% at 112.83
Brent down 1.1% at $59.4/bbl, WTI down 1.1% to $50.9/bbl
LME 3m Copper up 1.4% at $6158/MT
Gold spot up 0.1% at $1239.3/oz
US 10Yr yield down 1bps at 2.88%
MAIN MACRO DATA (all times CET):
8:45am: (FR) Oct. Industrial Production MoM, est. 0.7%, prior -1.8%
8:45am: (FR) Oct. Manufacturing Production YoY, est. -1.5%, prior -1.0%
8:45am: (FR) Oct. Trade Balance, est. -5.75b, prior -5.66b
8:45am: (FR) Oct. Industrial Production YoY, est. -1.4%, prior -1.1%
9am: (SP) 3Q INE House Price Index YoY, prior 6.8%
9:30am: (UK) Nov. Halifax House Prices MoM, est. 0.2%, prior 0.7%
10am: (IT) Oct. Retail Sales YoY, est. 1.8%, prior -2.5%
10:30am: (UK) Nov. BoE/TNS Inflation Next 12 Mths, prior 3.0%
11am: (EC) 3Q F GDP SA QoQ, est. 0.2%, prior 0.2%
11am: (EC) 3Q F GDP SA YoY, est. 1.7%, prior 1.7%
11am: (EC) 3Q Household Cons QoQ, est. 0.2%, prior 0.2%
(IT) Bank of Italy Report on Balance-Sheet Aggregates