Surging Commodity Prices Could Break the Great Divergence Trade
(Bloomberg) -- Voices across Wall Street are anticipating the convergence of U.S. markets with the rest of the world. Higher commodity prices might just make it happen.
With OPEC signaling it won't boost output to cap oil prices, Brent crude surged to a four-year high. Copper also rebounded, putting Bloomberg's commodity index on a six-day tear that comes at the same time American equities are losing their edge against overseas counterparts. Dollar weakness may follow, a growing chorus of analysts say, further boosting emerging markets that benefit from rising commodity prices and closing the gap with the U.S.
A continuation in the commodity rally may "play a key role in reinforcing the convergence theme, drive further dollar weakness and further EM strength," Michael Purves, the chief global strategist at Weeden & Co., wrote in a note Sept. 25. This means "risks for the U.S. outperformance trend are higher, and that the rest of the world may be able to catch up."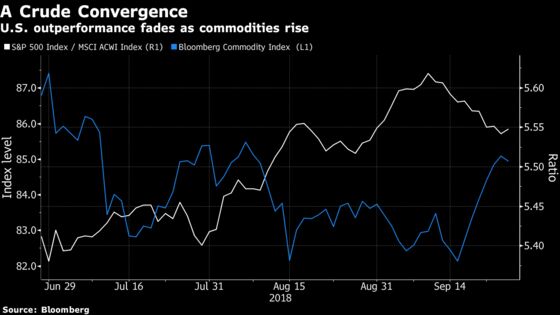 Morgan Stanley strategists highlighted how a rising greenback and domestic inflation had already left real returns across many asset classes in negative territory for the year. JPMorgan's Marko Kolanovic is doubling down on his call to cut holdings in U.S. equities and add exposure to emerging markets.
"The tables are turning as a stronger USD, higher yields, and trade tariffs start impacting U.S. profit growth, and YoY earnings comparisons soften," Kolanovic wrote in a note Sept. 26. "While we think that U.S. equities will drift higher, the days of rampant outperformance vs. the rest of the world are likely over."
Indeed, much of the call for convergence comes down to the currency impact. Typically the dollar moves in the opposite direction from commodities, so if raw materials continue their upward trajectory, emerging market assets could benefit from a weaker greenback.
Then there's the effect of inflation: Consumer sentiment, which just hit an 18-year high, could falter on more expensive prices for things like gasoline.
"A scenario where the Fed is forced to continue to hike while economic metrics are moderating is not going to be pretty for U.S. equities," Purves said.
American risk assets such as energy stocks and the broad high-yield space have been basking in the glow of higher oil prices. A rapid tightening in spreads among energy junk issuers, which account for a large chunk of the market, has helped push the risk premium on the overall space to near its lowest levels of the year.
All else equal, higher oil prices point to higher yields and a flatter Treasury curve, notes Subadra Rajappa, head of U.S. rates strategy at Societe Generale SA.
"Most of the impact is going to be on front-end breakevens, typically you tend to see two-year and five-year respond a lot more than 10-year breakevens," she said in an interview on Bloomberg TV. "Ten-year breakevens have been stuck squarely between 2.10 and 2.20 -- that's an extraordinarily tight range, and now you're starting to see that break through and a little bit more getting priced into inflation expectations."