European Gas Falls From Record as Oil Falls on OPEC Decision
(Bloomberg) -- European natural gas and carbon prices fell from a record after crude oil slid following OPEC's decision to stick to production increases.
Benchmark futures traded in the Netherlands closed 0.2% lower, while carbon ended 1.1% down as OPEC and its allies ratified the 400,000 barrel-a-day supply hike scheduled for October. Dutch gas and carbon futures reached records earlier Wednesday as a supply crunch leaves Europe struggling to refill gas storages before the start of the heating season in about a month. 
Gas futures more than doubled this year as production outages in the North Sea add to limited flows from Russia, Europe's biggest supplier. Asia is also scooping up cargoes of liquefied natural gas, making it harder for Europe to boost inventories already at their lowest level in more than a decade.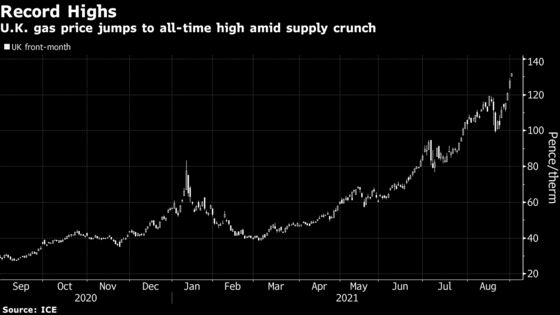 Benchmark European gas futures traded in the Netherlands closed at 50.23 euros a megawatt-hour after jumping as much as 5.2% to 52.95 euros, an all-time high. Front-month gas in the U.K. soared as much as 5.3% to 134.5 pence a therm on ICE Futures Europe before ending the day little changed.
EUROPE GAS OUTAGES: Outage at Oseberg, Planned Cut at Kollsnes
Gas prices have been breaking records day after day. Gazprom PJSC said Wednesday that Europe might not be able to fully rebuild its inventories before the upcoming heating season. The Russian gas giant is also facing a crunch of its own, having said last month it was overwhelmed with record demand both abroad and at home.
Gas prices are rising across the globe. Asia LNG prices could climb to $20 a million British thermal units "if a U.S. LNG export terminal were to stay offline for weeks," Citigroup said in a report Wednesday. Prices recently jumped on concerns Hurricane Ida would disrupt U.S. exports.
European carbon prices slid to 60.12 euros a metric ton after hitting a record 61.90 euros. Futures have surged more than 80% this year, partly as soaring gas prices are pushing up the cost of power and emissions across Europe. 
Burning coal is becoming an increasingly profitable fuel to produce power, compared to gas, for the fourth quarter of this year.