Sunken Treasure Ship Discovery Reports Roil Some Korean Stocks
(Bloomberg) -- It doesn't take much to rev up the imaginations of South Korean day traders. And when rumors were fanned that a ship carrying $132.5 billion of gold had been found off the country's coast, minds started to race.
Regulators are suggesting that people get a grip.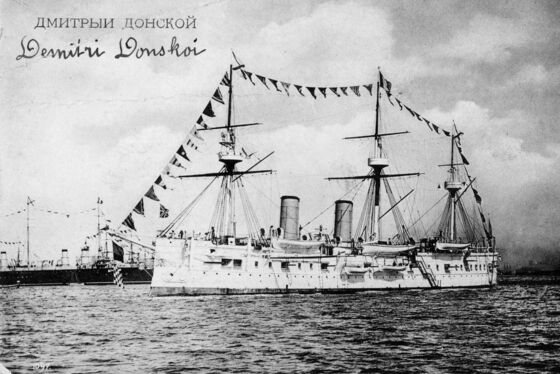 Here's what's known. British newspaper the Telegraph and local media reported that a salvage team discovered the Russian Imperial Navy cruiser Dmitri Donskoi. The warship sank off the island Ulleungdo 113 years ago, rumored to be carrying 200 tons of gold, the Telegraph said.
It's not totally clear why, but a handful of stocks seemed to move on the report. Kosdaq-listed Jeil Steel Manufacturing Co. surged to its daily limit of 30 percent on Tuesday when the reports first surfaced, before erasing almost half of that gain on Wednesday. One Kospi 200 Index stock, Dongwon Systems Corp., jumped 19 percent at the open and then proceeded to close 12 percent lower for the day.
Jeil Steel issued a statement Wednesday saying that the company has "no relevance with a treasure ship business at all." Dongwon didn't immediately respond to requests for comment.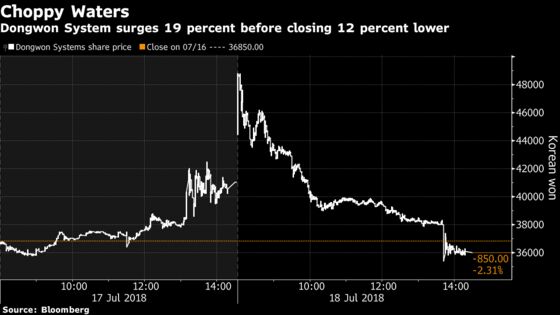 "Stocks like Jeil Steel Manufacturing and Dongwon Systems moved on the news, and most of the stocks are small caps," said Cho Byung-Hyun, a strategist at Yuanta Securities Korea. "Even if it is true, there will be sensitive issues like ownership and whether this will indeed help earnings of companies."
In a warning issued after the markets closed, South Korea's Financial Supervisory Services said investors need to be cautious when it comes to buying stocks related to the shipwreck-exploration business without checking the facts on the Russian ship. "Anyone who spreads groundless rumors on the vessel will be charged of violations of criminal laws or fined," the regulator said in a statement.
FSS cited a similar case when investors lost money by investing in a company whose stock surged on claims of having discovered a treasure ship. The company, at the end, went bankrupt, leading to "massive losses" for investors, according to the regulatory agency.
In 2000, Bloomberg reported that a South Korean company claimed to have discovered the wreckage of the same warship, Dmitri Donskoi, but that a Russian scholar debunked suggestions the vessel was carrying gold.
"There is no archival material or scientific evidence to support the idea that there is gold on the Dmitri Donskoi," Sergei Klimovsky, then head of scholarly research at the Central Naval Museum in St. Petersburg, told Bloomberg. "This question of gold on Russian warships occasionally arises, but there is none, and the Koreans will be wasting their money."