Sundial Says Extreme Options Sentiment Is Awful Omen for Stocks
(Bloomberg) -- Small options traders are bullish to a point that signals trouble for U.S. equities, according to Sundial Capital Research Inc.
"Last week, the smallest of options traders, those with trades for 10 contracts or fewer at a time, opened a new record of net bullish positions," Sundial President Jason Goepfert wrote in a note Tuesday.
In comparison, very large traders, those with trades of 50 or more contracts at a time, haven't been betting so much on a rally, he said. That has widened the spread between small- and large-trader net bullish positions to a record, with the gap jumping "like it did in 2008" in the past couple of weeks, he added.
Extremes in the data have consistently led to poor market returns, Goepfert wrote.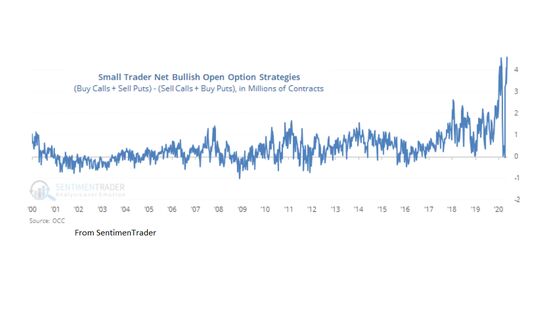 Goepfert said he tends to give options data more weight when they reach compelling extremes because they offer "a much better idea of who is doing exactly what, and with real money," than many market data sets.
"The data from last week is disturbing," Goepfert wrote. "It clearly shows that the smallest of traders, who tend to be the most consistently ill-positioned at extremes, have gone aggressively long, in a leveraged fashion. This has a strong tendency to lead to lower prices over the short to medium term."