Volatility Goes AWOL From Global Markets Besieged by Risk
(Bloomberg) -- Whisper it quietly, but there's a distinct air of complacency creeping into financial markets just now.
Expected price swings across developed-market assets are close to lows not seen in the post-Volpocalypse era, defying mounting angst over trade and the aging business cycle.
One reason: the outperformance of U.S. financial markets amid a projected wave of upbeat earnings is -- for now -- helping to cap implied volatility premiums across the board.
"Perhaps surprisingly, the continued escalation in trade tensions has failed to create broad market volatility, with cross-asset measures of vol trading near post-February lows," Morgan Stanley strategists led by Hans Redeker wrote in a note.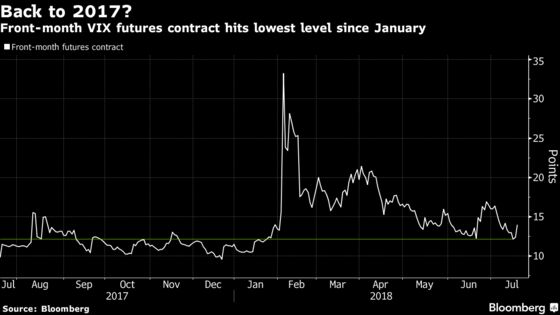 U.S. Treasury-market implied volatility is moving back toward record lows, a testament to stable expectations about the near-term outlook for the Federal Reserve. Meanwhile, a Deutsche Bank index of estimated developed-world currency swings sits nearly one standard deviation below its 12-month average.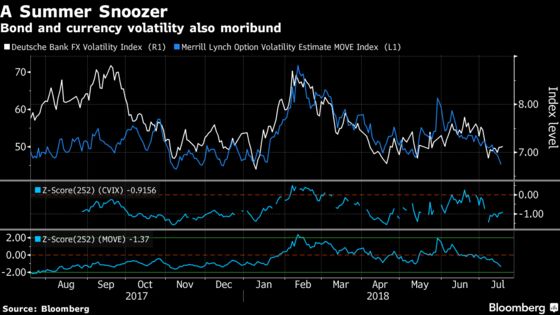 Over in Europe, cross-asset gauges are listless as traders shake off the prospect of diminishing monetary stimulus in the euro area, escalating trade tensions and signs of easing growth momentum.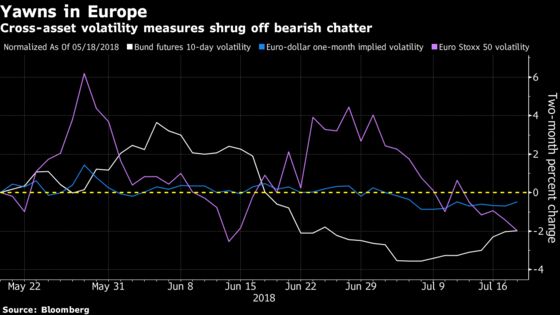 "Markets appear rather complacent in the face of the trade tensions, so caution is warranted on directional trades at this point," Kit Juckes, a Societe Generale strategist, wrote in a note.
Japan offers a reminder that monetary authorities continue to douse markets with liquidity. The Bank of Japan's yield-curve control policy coupled with relentless asset purchases have killed bond trading volume and pushed implied volatility close to record lows.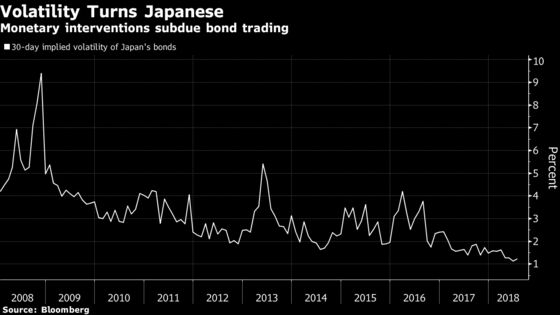 Serene market conditions in the U.S. and Europe are crimping the yen's safe-haven appeal too, with the currency's three-month volatility now lower than at any point between 2015 and 2017.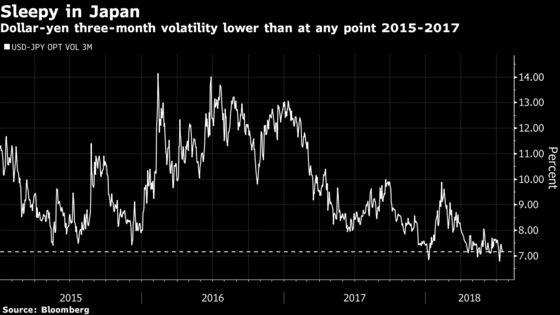 For now, currency markets in China and the U.K. along with commodities are where the action's at. The yuan's depreciation has traders on edge. The twists and turns of Brexit negotiations, in concert with monetary uncertainty, has sent the pound on a roller-coaster ride this month.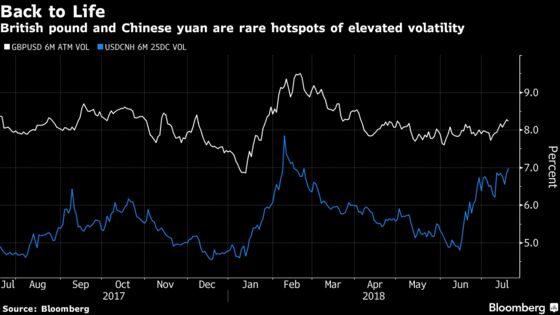 And natural-resource markets -- from oil to industrial metals -- are among the hot spots in a tranquil cross-asset landscape, and could yet prove a catalyst for broader disruption.
"We expect commodity volatility will soon be followed by a pickup in equity market volatility, as copper is telling a story," wrote Peter Cecchini, chief strategist at Cantor Fitzgerald.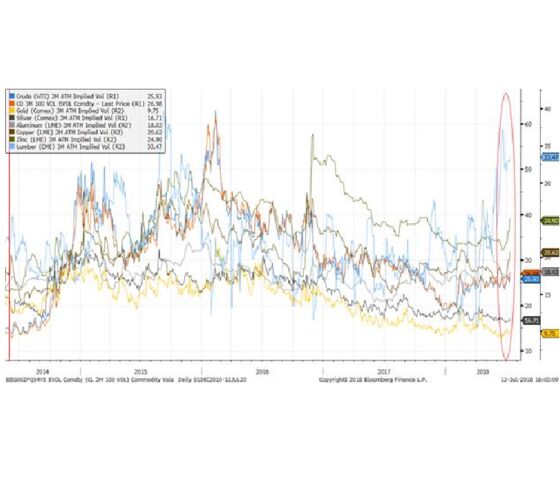 A wake-up call for traders beckons soon enough, according to Redeker and team.
"We view the earnings season as a potential catalyst for volatility, with declining liquidity likely to amplify market moves," they said.