Sugar Rally Gets Boost From Soybean Woes at Brazil Port
(Bloomberg) -- The global sugar market is getting another reason to rally.
Shipping delays currently plaguing soybean exports from Brazil are set to spill over to sugar. The queue of vessels waiting at ports in the world's top sugar and soybean producer is so gigantic that bottlenecks will likely still be there in May, when sugar normally starts being put through some of the very same terminals.
The domino effect comes when global sugar supplies are already tight, with many of the world's major producers seeing setbacks. India is struggling to ship sugar due to a shortage of containers, and Thailand and the European Union are grappling with smaller crops. Meanwhile, Indonesia and China are buying more of the sweetener. Raw-sugar for May delivery rose as much as 1.9% to 17.21 cents per pound in New York, the highest for the contract since March 2017.
"It's a very real risk that raw-sugar prices could move higher due to logistical bottlenecks out of Brazil's ports that will compete to ship grains," said John Stansfield, an analyst at Group Sopex in London.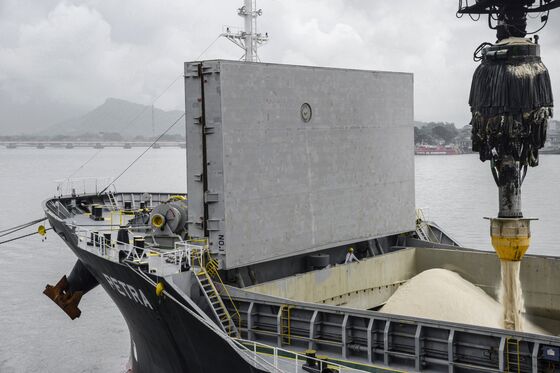 In January, Brazil's soybean exports were the lowest since 2014. Less than half of exports projected for February may get shipped.
Port logjams aren't the only issue for Brazil. A severe drought in the second half of last year may reduce the nation's output in the season starting in April, even as millers try to maximize production, given the high prices. The industry will likely delay crushing to wait for yields to improve, which will limit supplies in May.
In addition, La Nina may bring more rain to Santos port, the biggest shipper of soybean and sugar, which could slow down operations, according to Somar Meteorologia.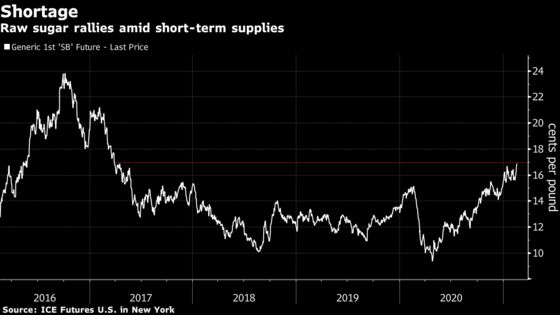 The expectation for slow shipments in May is likely to hamper deliveries of the May raw sugar contract. That's already being reflected in rising spreads. The premium commanded by the May futures contract over July has climbed to near the highest since November, indicating a near-term supply crunch.
"Any sign of a delayed start to the harvest due to dry weather could also mean less supply in May and widen the spread," Stansfield said. "The market needs the sugar as soon as possible."
Exporters and traders who are expecting to pocket a hefty premium by delivering sugar against the May contract might never see those gains, however. The same port bottlenecks could trigger expensive so-called demurrage bills for failure to load ships within an agreed time, erasing the steep profit from the spread, said Ricardo Carvalho, commercial director at BP Bunge Bioenergia, one of the nation's largest sugar producers.