Korean Stocks Plunge After Trump-Kim Summit Collapses
(Bloomberg) -- The slide in Korean stocks and the won following the failure of the Trump-Kim summit Thursday has all the signs of being a one-day wonder, with little longer-term impact on global markets.
"This whole sell-off this afternoon has been a knee-jerk ahead of the public holiday," said Jeffrey Halley, senior market strategist with Oanda Corp. in Singapore. "If stocks hold up over the weekend, I believe we'll see the Kospi make all those losses back on Monday." South Korean markets are closed Friday for a public holiday.
The benchmark Kospi index plunged 1.8 percent Thursday -- the most since Oct. 23 -- while the South Korean won slipped 0.5 percent against the U.S. dollar after the discussions between the two leaders collapsed without an agreement. The cost of insuring the nation's sovereign bonds against non payment increased. Futures contracts on the S&P 500 Index fell as much as 0.5 percent, and those on the Nasdaq 100 Index slumped 0.7 percent.
While expectations for Donald Trump's second summit with Kim Jong Un were low, the market was taken by surprise by its abrupt end. The U.S. president said he walked out because the North Korean leader's offer to dismantle the nation's main nuclear facility at Yongbyon "wasn't enough."
"The market wasn't holding high hopes for a peace accord, so the impact should be mild and limited," said Linus Yip, chief strategist at First Shanghai Securities. "The Kospi may come under short-term selling pressure, but Asia in general will likely be able to shrug this off."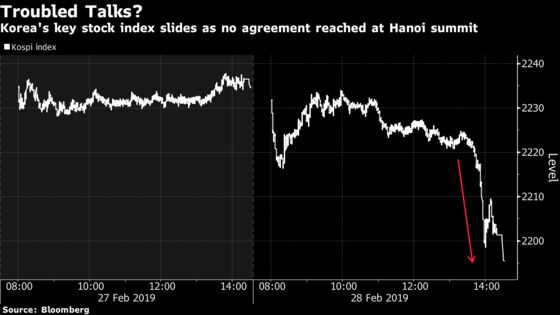 Hiroaki Hiwada, a strategist at Toyo Securities Co. in Tokyo, agrees. "Once the news has been digested in the markets globally, Asian stock markets will likely shift the focus to developments in the U.S.-China trade talks, especially after Lighthizer's comments poured cold water into trade optimism," he said.
Weak economic data and a central-bank decision had already sent currencies lower earlier Thursday, before the sudden end to the Hanoi summit pushed the won further down, Oanda's Halley said. The Swiss franc and yen advanced as demand for havens climbed.
Here's a recap of Thursday's economic data points:
The first official gauge of China's manufacturing sector in February showed activity contracted further, with a series of domestic holidays, the global slowdown and uncertainty from the trade war all likely playing a part.
Japan's factory output dropped by the most in a year in January as slowing global growth begins to take a heavier toll on the nation's export-dependent economy.
South Korea's central bank left its key interest rate unchanged as the outlook for Asia's fourth-largest economy weakens amid falling exports, soft jobs growth and waning inflation.
And there's more data investors are waiting for. "The market is potentially hesitant to initiate any big positions ahead of the U.S. GDP data release later," said David Forrester, a Group-of-10 currency strategist at Credit Agricole in Hong Kong.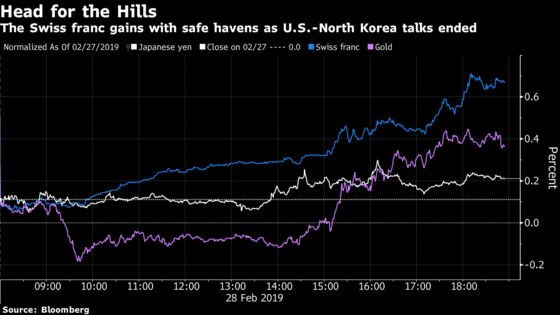 So-called peace stocks, a group of South Korean infrastructure names that tend to move on speculation for business with the North, sank. Hyundai Elevator Co., which holds a stake in Hyundai Asan, a South Korean firm that runs a resort in North Korea, plunged 19 percent. Namhae Chemical Corp., a fertilizer maker that rose in the past two days on expectations for new orders from the regime, slumped 13 percent.
Others aren't convinced the market will recover that quickly. "This looks set to take more time, which could trigger further foreign selling pressure" on South Korean stocks and won, said KJ Hwang, Seoul-based head of research at CGS-CIMB Securities.
But most believe the lack of a positive catalyst from the summit will only weigh on markets briefly. After all, the Kospi has been one of the best performers in Asia this year, thanks to a rebound in chipmakers Samsung Electronics Co. and SK Hynix Inc. The market has also been a favorite among foreign investors, who bought $4.3 billion net of South Korean shares since January.
"The impact on markets, including Korea markets, will be short term, just like previous geopolitical issues, unless North Korea abandons all denuclearization negotiations and goes back to developing more nuclear weapons," said Jae Lee at Timefolio Asset Management.